⚠️ Update: November 11, 2021

Entry conditions for international travelers

Dubai is now open for tourism to most travelers as long as they fulfill certain criteria. All travelers entering Dubai regardless of point of origin must provide a negative COVID‑19 RT‑PCR test certificate for a test taken within 72 hours before departure, except for travelers from Bangladesh, Ethiopia, India, Nigeria, Pakistan, Sri Lanka, South Africa, Uganda, Vietnam, and Zambia (for which more specific requirements need to be met — see here)

Restrictions for certain travelers

Travelers from more than 50 countries, including Argentina, Egypt, Morocco, Slovakia, and Turkey, must take an additional test on arrival.

Additional entry restrictions apply. Refer to updates on tourist entry here.

COVID-19 has completely changed travel and tourism. With many of us now taking a cautious approach to travel, taking a flight overseas is no longer as straightforward as it used to be. That said, if any destination can recover quickly and effectively from this pandemic, it is Dubai. The city-state has made it a priority to reopen its doors and welcome international travelers back to its glittering metropolis by deploying a wealth of safety precautions. We seek to answer the important question: Is it safe to travel to Dubai amidst the COVID-19 pandemic? Read on to find out what Dubai is doing to make tourists feel comfortable in light of the pandemic.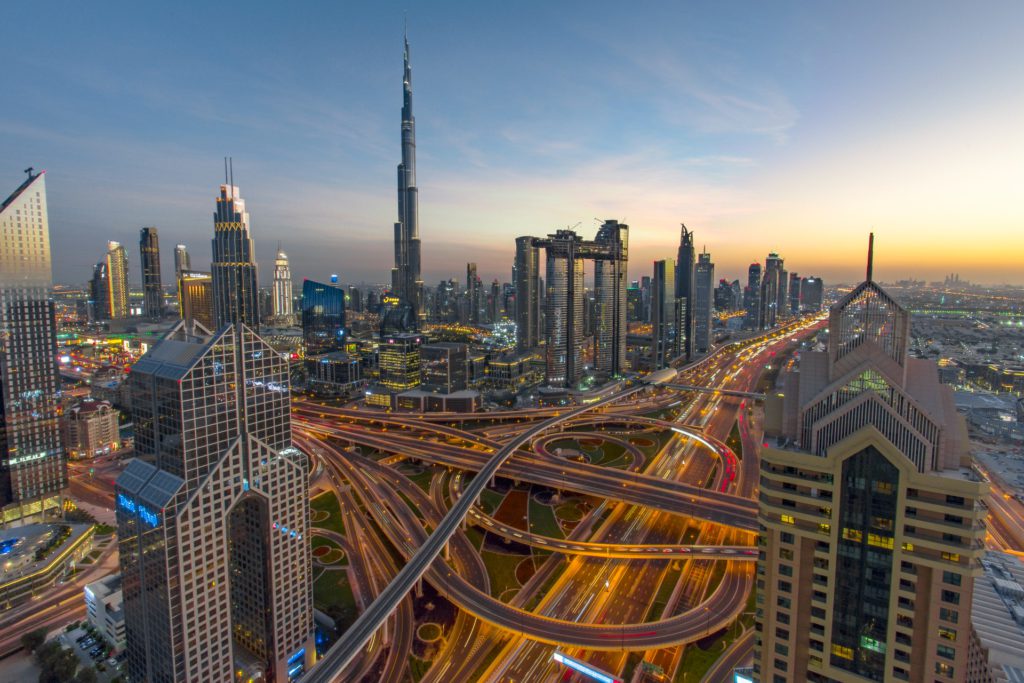 Dubai blends the glamor of modern luxury with the enduring timelessness of the Arabian desert. Soaring skyscrapers and indulgent mega malls await you in this desert city, all in the hands of new measures aimed to make you feel at ease while exploring the city.
As a recipient of the global Safe Travels Stamp, issued by the World Travel & Tourism Council (WTTC), tourists can rest assured that Dubai has implemented stringent hygiene and safety protocols throughout the city. Find out more about the WTTC Safe Travels protocols here, and be sure to be on the lookout for the little green stamp of approval on attraction websites and at venues across Dubai.
We're shedding light on some of these safety protocols implemented at various tourist touchpoints, from Dubai International Airport to the awe-inspiring Burj Khalifa.
Dubai International Airport
Home of the award-winning airline Emirates, Dubai International Airport is officially one of the world's busiest airports. Full of dining options, plush lounges, an endless collection of duty-free shops and luxury boutiques, and even impressive art displays, the sprawling airport is a visitor attraction in its own right.
In a bid to boost confidence in travel, customers purchasing an Emirates airline ticket from now until December 1, 2021 will receive free multi-risk travel insurance at no additional cost. Find out more about the benefits included in this cover here.
As a first contact point for most overseas travelers, screening at the international airport is rigorous. Incoming travelers are required to undergo a COVID-19 PCR test and present their negative COVID-19 certificate before takeoff. Upon arrival, select travelers are chosen to undergo another PCR test, with anyone testing positive to be quarantined. Thermal and temperature screenings are implemented, and within the airport itself, everyone including staff must abide by strict health and hygiene measures. This means two-meter social distancing and the wearing of protective masks and gloves. Check Visit Dubai for updates on travel protocols.
Tourists who enter Dubai are required to download the COVID-19 DXB app (iOS | Android).
Burj Khalifa
The Burj Khalifa is a true modern masterpiece, shooting up from the ground and towering over the city at a mind-boggling height of over 2,716 feet (828 meters). Crowned the tallest building in the world, you mustn't miss the amazing panoramic views of Dubai's desert metropolis from its observation deck. Not afraid of heights? Chill out on the deck's outdoor terrace, guaranteed to provide dizzying vistas of the cityscape below.
Visitors to the Burj Khalifa are now required to purchase tickets online, and once arriving at the building, they must undergo temperature checks before entry. To reduce contact with staff, all payments have been made contactless throughout various touchpoints. Like many other high-traffic spaces, face masks are mandatory and the two-meter social distancing rule must be observed. Distancing stickers are placed on the ground to mark standing positions when queuing, and touchless sanitizers are available in many different locations throughout the building.
Dubai Mall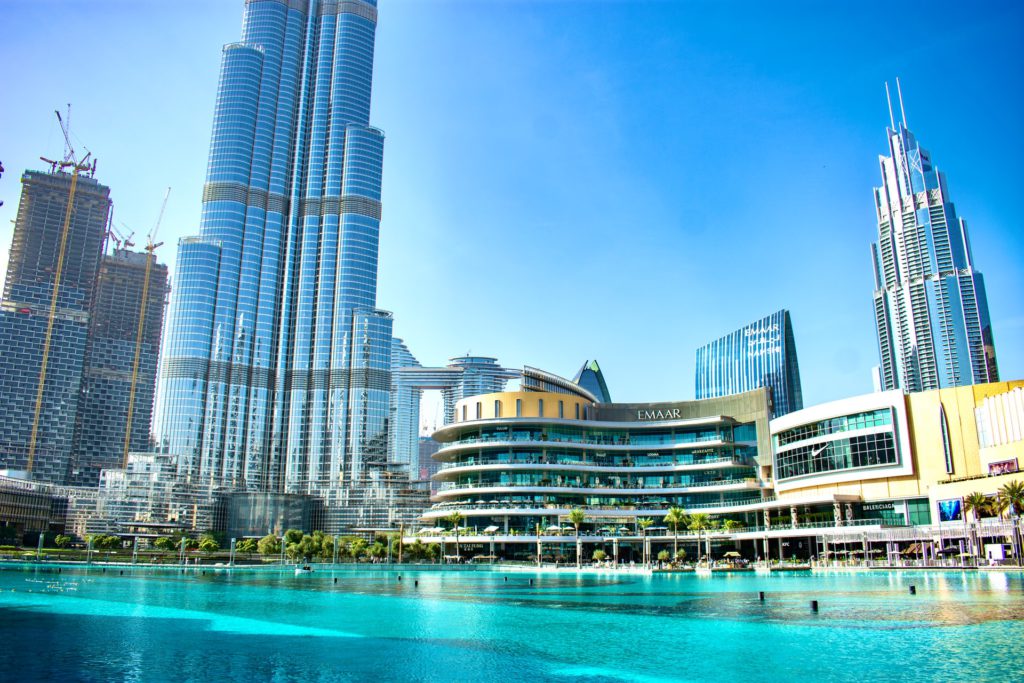 In a city dotted with shopping malls left, right, and center, there is one reigning champion that takes the cake with over 1,200 shops and 150 restaurants. Located close to the Burj Khalifa, the Dubai Mall is a true shopper's paradise. In fact, it's better to call it a lifestyle and entertainment hub. Here, you'll find everything from an Olympic-sized ice rink to an indoor amusement park. Oh, and you might want to visit the Dubai Aquarium & Underwater Zoo while you're here, which houses thousands of aquatic animals, a 10-million-liter aquarium, and a 270-degree walkthrough tunnel.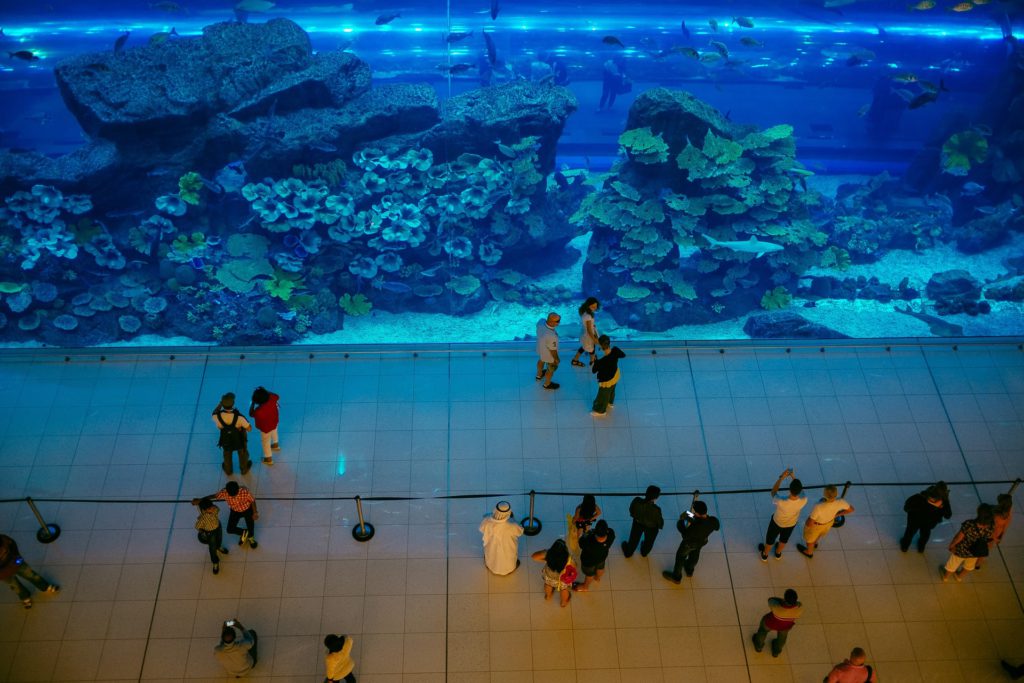 If you want to escape the heat and explore the mall, there are health and safety regulations to take note of. Like the Burj Khalifa, general measures implemented at the Dubai Mall include advanced online ticket purchases at attractions, temperature screenings prior to entry, and mandatory wearing of masks by all visitors. High-contact venues such as makeup stores require shoppers to wear gloves, and many shops require customers to enter from one side of the establishment and exit from another.
The aquarium has ramped up sanitization procedures, with cleaning staff using materials and products approved by the Dubai Municipality. To avoid overcrowding, social distancing measures and capacity limitations are also in place.
Etihad Museum & Coins Museum
Various museums across the city have reopened. This includes the Etihad Museum, which showcases the heritage of the United Arab Emirates across its political, social, cultural, military, and scientific history, and should be one of your first stops if you want to learn more about the region. In direct contrast to the contemporary architecture of the Etihad Museum, the Coins Museum is situated in a traditional-style building constructed out of coral, stone, plaster, chandal wood, and teakwood. This unusual museum grants visitors the rare opportunity to view a collection of over 470 old coins dating back to different historical eras, minted in various locations from Dubai to Turkey.
All museums in Dubai have a strict 50 percent visitor capacity limit, and groups of no more than five will be permitted to enter. On top of routine sterilizations and temperature checks at entrances, venues also encourage visitors to avoid handling paper tickets or cash. Online ticket purchases or contactless payment options are welcome alternatives.
Camel Desert Safari
There's no better way to escape the crowds of the city than to go on an exciting wildlife-spotting safari adventure out on the shifting sands of the Arabian desert. Fully outdoors, this makes it a low-risk activity to enjoy the hidden jewels of Dubai's outskirts. Make a booking for the unique Camel Desert Safari, which includes a nomadic journey through the desert on a camel convoy, and traditional activities such as Arabic bread making and henna painting.
Committed to the quality of their experiences, the operators who run the safaris have made adjustments behind the scenes to ensure all health and safety guidelines exceed the UAE government's regulations and guidelines. In fact, you'll find that the company's website already displays the WTTC Safe Travels Stamp.
According to company guidelines, a complete washdown and high-intensity sanitization of all public areas will occur after each desert safari. All guests and staff are to undergo contactless temperature checks before the start of the journey. During pick-ups, three guests are allowed in each vehicle, or a maximum of six if they are from the same family.
Know of more protocols that answer the question is it safe to travel to Dubai? Share them with us.
---
About TourHero
TourHero is a social travel platform that enables you to travel with like-minded people and fall in love with the journey. We work closely with handpicked local operators to ensure every experience curated is unique and exclusive to your travel group. Come with us on epic adventures and create memories that last a lifetime!