Imagine stepping into a dark cavern adorned with thousands of glowing lights flickering from up above. No battery-operated fairy lights or hidden special effects, this magical scene is au naturel. Find this magical spectacle in New Zealand, deep in its many caverns and grottos, discover a world of bioluminescent glow worms that glimmer in the darkness.
From 300-million-year-old limestone caves to formidable canyon walls, glow worms can be found in many New Zealand natural wonders. We've put together a curated selection of where to spot these unique critters and insider tips for a front seat to Mother Nature's spectacular light show.
What are glow worms?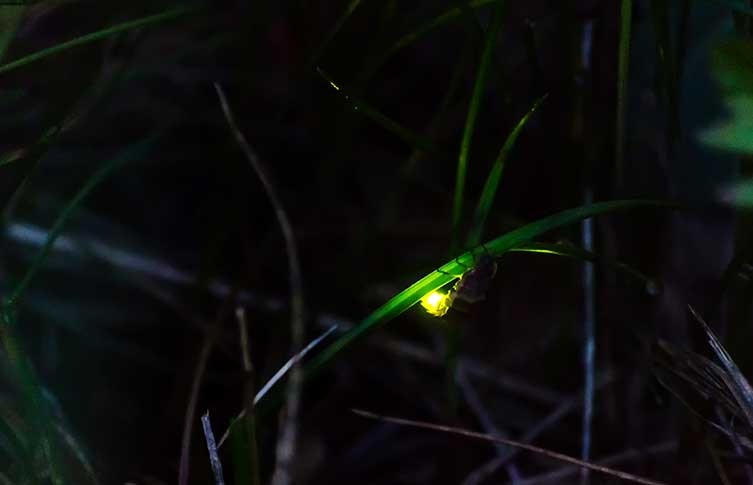 Glow worms, despite their name, aren't worms at all! Glow worms are, in fact, beetles belonging to the family Lampyridae, commonly known as fireflies or lightning bugs. These beetles emit a bioluminescent light to communicate with other beetles, attract mates, or lure prey into their web.
Male glow worms look like beetles with their hand-winged case. They are also of a smaller size than their female counterparts. In fact, the wingless, larvae-like appearance of adult female glow worms gives these beetles its "worm" moniker. Though both male and female sexes may exhibit bioluminescence, female glow worms emit a stronger glow of yellow, green, or orange light to attract their mate.
Why do glow worms glow?
At night, adult female glow worms get ready to attract their mate by climbing to a high point such as a plant's stem. They turn their light-producing organ, located at the end of their abdomen, upwards, making themselves visible to flying males. Drawn to this light with their large, photo-sensitive eyes, male glow worms find their potential mate in the thick vegetation.
Arachnocampa is a group of glow worms consisting of five species unique to New Zealand. Typically found in caves, grottos, overhangs, rock cavities, and sheltered wet areas, these species use their bioluminescence to trap prey by using their light to lure other insects into their webs.
Preparing for your journey to New Zealand's glow worms caves
Before your trip, make sure to check on the region's travel restrictions. You can find more information related to COVID-19 restrictions on the New Zealand government website or refer to our handy article on "Is it safe to travel within New Zealand".
Apart from travel restrictions, here are some quick reminders before you make your trip.
Bring a flashlight
A strong flashlight or headlamp is essential when exploring glow worm caves. Glow worms thrive in a dark environment, sometimes so dark that you may not be able to see your hand in front of your face. Guided cave tours will provide you with a flashlight or headlamp, but if you are exploring a cave on your own, a light source will come in handy.
When spotting glow worms, shine your light away from the glow worms as they are highly light-sensitive and will not produce their fluorescent glow when light is shone at them.
Wear good footwear
Most cave networks are damp environments that may comprise of subterranean streams, waterfalls, sinkholes, and even whirlpools. Make sure to wear proper footwear to ensure you get a good grip on the cave's slippery surfaces and get ready to get wet.
Bring a camera with low light settings
Unfortunately, capturing good photographs of these elusive glow worms is not easy. You'll need a good camera with low light settings for the best results.
If all else fails, savor this unforgettable moment without having to whip out your phone or camera. Let the cave's darkness envelope you and watch a light show come to life right in front of your eyes.
Check the weather
Several caves can flood with water during the rainy season, making them highly susceptible to dangerous flash floods. Make sure to check the weather before heading out to explore a cave.
Be respectful of your surroundings
Finally, be respectful of your surroundings. Leave the cave ecosystem as is and do not litter.
New Zealand's glow worm caves
Waitomo caves
The Waitomo caves are a phenomenal sight to behold. Located just three hours away from Auckland, these 30 million-year-old caves let you take a peek into the South Island's thrilling subterranean world.
The name "Waitomo" in Maori translates to "water which flows into a hole in the ground," the caves comprising of three other caves to form an impressive underground network. Apart from Waitomo, the caves include the Ruakuri cave, Lucky Strike, and Tumutumu cave.
Image by Felix Gerz via felixgerz.com/
Whether it's on foot, abseiling from above, cruising in on a boat, or diving into the caves' waters, entering this incredible underground world is always an adventure. Here, feast your eyes on the massive cavern adorned by pure white limestone stalactites and stalagmites. Watch the overhead cliffhangs light up with a spectacular light show of glow worms that shine like the night sky.
Apart from enjoying this truly magical sight, adventure-seekers can also abseil, zipline, go black water rafting, and climb waterfalls to explore the rest of the sprawling underground cave network.
Waitomo caves: 39 Waitomo Village Road, Waitomo 3977, New Zealand
Te Anau caves
Located in South Island's Fiordland, the Te Anau caves is an astonishingly beautiful underground paradise waiting to be explored. Begin your journey here with a scenic cruise across the western shores of Lake Te Anau. Then, enter the caves at Cavern House, where you can view interesting displays to learn more about the Te Anau caves. Finally, step into the magical underground world.
Formed over 12,000 years ago, Te Anau is considered a young cave as the cave is still being carved out by the river that flows through them. The result: a labyrinth of limestone passages of carved rock shaped by whirlpools and a mesmerizing subterranean waterfall. Drift through the cave's passages on a boat to a hidden grotto tucked away deep in the cave. There, find the fluorescent glittery glow of hundreds of glow worms that light up the cave's darkness.
Te Anau caves: Shores of Lake Te Anau, 9679, New Zealand
Hokitika's glow worm dell
Journey to the West Coast of New Zealand's South Island to Hokitika, a charming town known for its mining history and untamed wilderness. As you drive into Hokitika, make sure to stop at the town's northern entrance to visit the Hokitika glow worm dell.
Though the smallest on our list of glow worm caves, this cozy dell is well-maintained and mostly untouched, making for an exciting into the unknown. Best of all, the Hokitika glow worm dell is free to enter and can be explored without a tour guide. After a short bushwalk, step into the dell to find yourself surrounded by worm colonies that glow in the cave's darkness.
The best time to view the glow worms is during dusk or after dark. See the dell in a completely different light if you visit in the day; this glow worm dell turns into an atmospheric, fern-covered natural structure.
Hokitika glow worm dell: State Highway 6, Hokitika 7810, New Zealand
Waipu caves
If you are an avid adventurer looking for an unguided and unfiltered way of New Zealand's stunning show of glow worms, head to the off-the-beaten-track Waipu caves. Located just a little further than the Waitomo caves, the Waipu caves is a three-hour drive by car. The Waipu caves are a popular option for independent travelers as very few guided tours are conducted here.
After driving through the unsealed gravel Waipu caves road, make your way to the mouth of the elusive Waipu caves. There, venture into the first chamber where stalactites tower overhead and impressive stalagmites rise from the ground. Your eyes might take some time to adjust to the darkness so take your time to explore the caves carefully.
Follow the stream further into the caves to reach a portion of the cavern where the cave roof hangs at only 1 meter high. Duck low and proceed further to find thousands of glow worms illuminating the cave. Your journey doesn't end there; step deeper and deeper into this incredible cave network where underground streams flow and otherworldly rock formations adorn everywhere you turn.
Unlike the Hokitika glow worm dell, the best time to visit the Waipu caves is during the late morning or afternoon. These off-peak hours allow you to see the glow worm in their best light, as fewer flashlights allow these light-sensitive glow worms to stand out in the darkness. Since few guided tours run here, be responsible for your safety. Make sure you have checked the weather, worn appropriate clothing and shoes, and come equipped with a flashlight or a headlamp.
Waipu caves: Waipu 0582, New Zealand
Tauranga
If you are looking for a unique glow worm watching experience, head to Tauranga, a coastal metropolitan city in New Zealand's Bay of Plenty region. Here, embark on the exclusive Waimarino kayaking tour that combines the best glow worm viewing and night kayaking. Unlike the glow worm caves we've recommended, this exploration takes you to towering canyon walls that replicate the environment of a cave wall.
As the sun sets, climb into your sea kayak and paddle down Lake McLaren. Your final destination is a narrow, high-walled canyon. As you approach the tall, formidable walls of the canyon, gaze up into the brilliant spectacle of lights above. Don't be fooled – this surreal sight isn't the night sky but thousands of glimmering glow worms!
Waimarino kayak tours at Tauranga: 36 Taniwha Place, Bethlehem, Tauranga 3172, New Zealand
---
About TourHero
TourHero is a social travel platform that enables you to travel with like-minded people and fall in love with the journey. We work closely with handpicked local operators to ensure every experience curated is unique and exclusive to your travel group. Come with us on epic adventures and create memories that last a lifetime!