Ecotourism became popular in the 80s and established a responsible way of traveling that focuses on protecting land, culture, and the local population of a travel destination. Within ecotourism, you'll find an array of eco-friendly accommodations that use "low-impact" facilities to reduce their carbon footprints. These properties typically use green energy resources, local farms for food, and hire within the surrounding communities.
There are a variety of eco-friendly accommodations across the globe that range from campsites to luxe resorts. If you are heading to Central America, this list of ecolodges can help you get started on your eco-friendly adventures.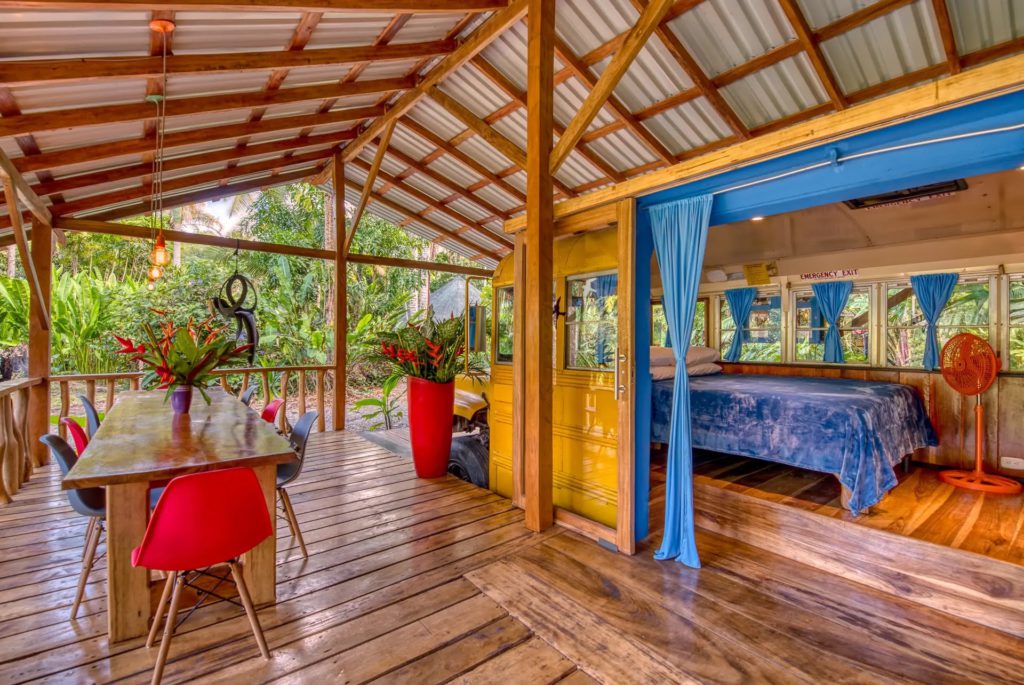 The Tree House Lodge isn't your ordinary eco-friendly accommodation. It features a variety of imaginative ecological buildings nestled in Playa Chiquita on the edge of the Gandoca-Manzanillo wildlife refuge. The 10-acre oceanfront property is complete with a treehouse, a school bus-turned "hotel room", six open-air houses right along the jungle shoreline of Punta Uva Beach, and the majestic backdrop of nature all around.
The lodge utilizes various green techniques to maintain its sustainable travel label. For example, they use zero-energy water, solar panels, and biodegradable cleaning products. Furthermore, the lodge only works with local guides, they hire locals from the area for on-site work, and the list continues to grow.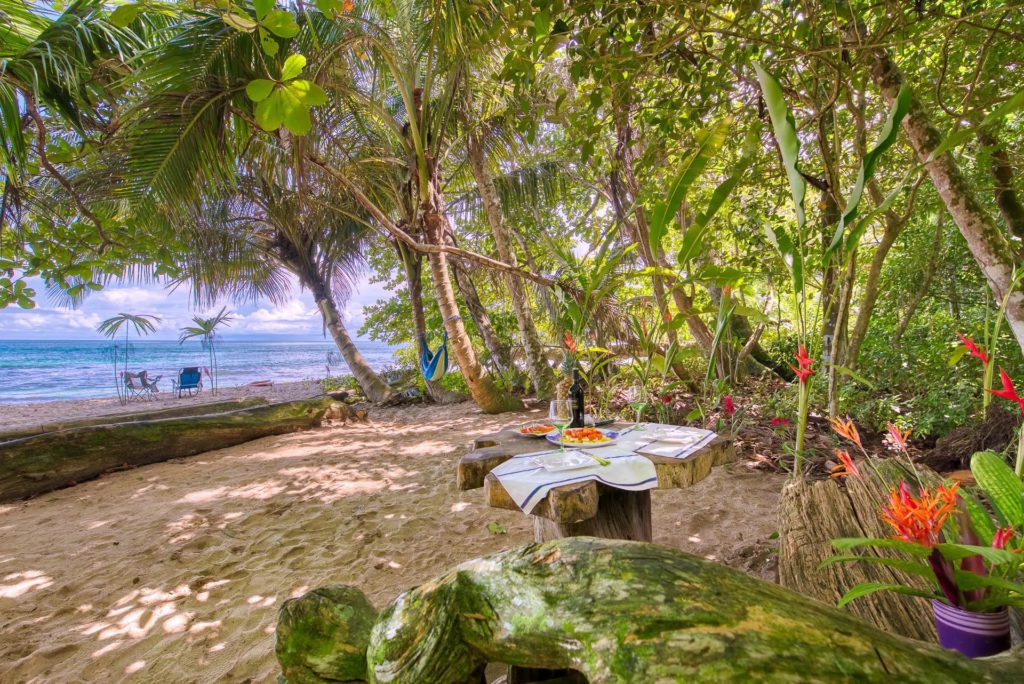 The Tree House has been working towards its sustainability goals since its opening in 1998. They hold a Certification for Sustainable Tourism, one of the oldest and most rigorous ecotourism programs in the world. In addition to these recognitions, they are part of the Iguana Verde Foundation for their efforts in protecting endangered species and have since created a sustainable community near the lodge called Bio Caribe.
This stellar accommodation has unique lodging, the beach, and a penchant for nature. Grab your swimsuit and book a flight!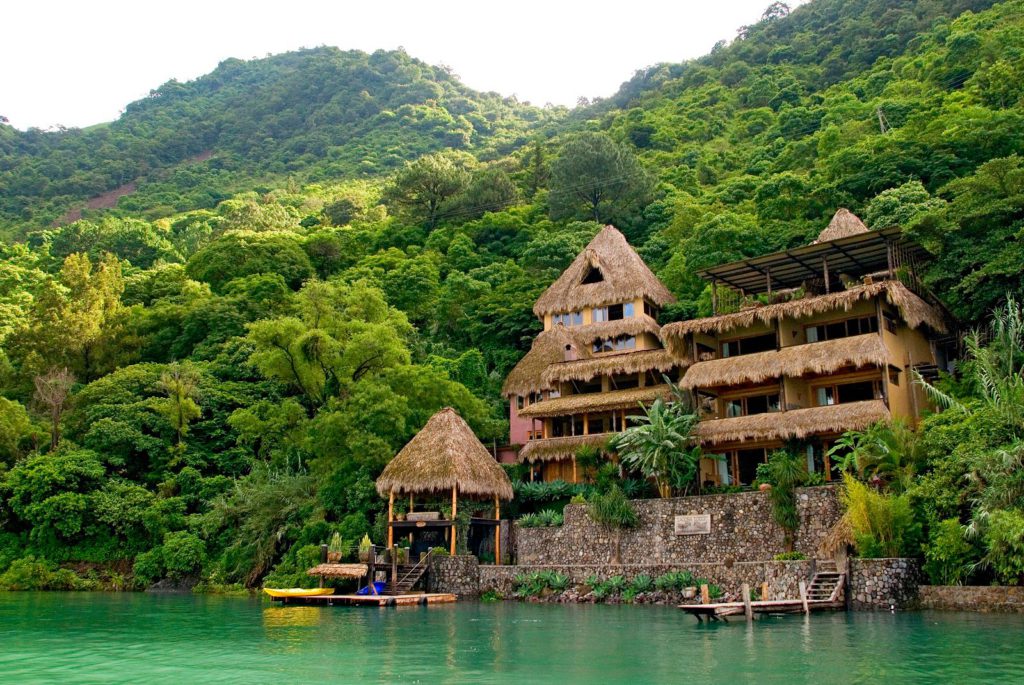 The Laguna Lodge in Guatemala aims to combine luxury and responsibility at every turn. This beautiful waterfront property is located on the legendary Lake Atitlan, across from three volcanoes, tucked away in its own 100-acre nature reserve.
The property features hand-hewn king beds, hand-woven textiles, indigenous antiques, and natural materials reused from the surrounding areas. Along with native resources, the staff is comprised of indigenous Mayan locals who generously share their history and ancestral legacy with all guests.
Laguna offers luxury, but they do so in a sustainable way by limiting the number of guests on-site. Moreover, the lodge features 180 solar panels that power the property, Wi-Fi, hot water, and water pumps. They grow their own organic produce and purchase all other food locally. In addition, they have minimal amenities in their rooms, along with low-flush toilets and low-pressure showerheads. This is just a short list of the green steps Laguna is using to ensure they are maintaining responsible travel for a better world.
If you're looking to reduce your carbon footprint but want some bougie extras, Laguna is the perfect combination!

The Pacuare Lodge is another Costa Rican gem that combines luxury and sustainability on the banks of the Pacuare River. The jungle backdrop and vibrant white water provide its guests with adventure, wellness, and relaxation at every turn. With farm-to-table food and a serene location, every traveler leaves the lodge feeling rested and rejuvenated having reconnected with nature on this majestic property.
The Pacuare Lodge uses solar power, along with biodegradable toiletries and soaps, to ensure the area stays chemical-free. The lodge also hires within the local communities and makes various donations to the surrounding indigenous groups. Their goal is to focus on the needs of the land and the locals first.
The lodge was built with little impact on the surrounding area. No trees were cut down to accommodate the facilities. The buildings were constructed from lumber gathered from a reforestation project run by local farmers. Even the thatch roofs were made by local Cabécar Indians using their traditional style of palm leaves collected in the reserve. Aventuras Naturales, Pacuare's parent company, has purchased 840 acres of rainforest to ensure it's preserved, which also offsets their carbon footprint. In turn, this preserve makes their tours carbon neutral. No visitors are allowed in this area of the jungle to ensure it stays healthy, clean, and thriving.
Yearning to reconnect with nature? Put Pacuare on your travel list for a relaxing getaway in the wild.
Morgan's Rock is located on a 4,000-acre jungle, half of which is a protected nature reserve. The property consists of 18 open-air bungalows/villas made of natural materials with plunge pools and ocean views for ultimate relaxation. Equipped with suspension bridges and a private beach, this eco-friendly lodge is sustainable and sure to impress!
The lodge aims to provide a relaxing atmosphere, along with authentic local experiences. The staff works hard to preserve Nicaragua's vital ecosystem and wildlife, as well as cultural preservation and community involvement. 95 percent of the Morgan's Rock workforce is comprised of locals, and the property buys as many products from local vendors and farmers as they possibly can.
The property maintains an organic farm for their restaurant and helps with reforestation through tree planting. They work hard to ensure the private preserve is left untouched by hunters and large corporations. Moreover, Morgan's Rock uses local artisans for their decor and sustainably-sourced wood for their furniture and housing. In addition, the lodge is equipped with solar panels to heat their water and a biofilter system to treat water for irrigation.
Enjoy this gorgeous property with idyllic amenities and green resources on your next trip to Nicaragua.
Palo Verde is a luxe eco-retreat on El Zonte Beach in El Salvador that offers high-end pampering with an eco-friendly footprint. This wellness sanctuary is deeply devoted to ensuring guests have an unforgettable experience while maintaining sustainable practices.
The facility has green policies for water, energy, and waste removal to reduce its footprint in this natural area. The property uses natural sunlight to light rooms and LED lighting at night. Hot water is used sparingly, and the sun is used to dry linens and bedding. Furthermore, Palo Verde uses rainwater and has a reusable filtration system to recycle water, among many other eco-friendly initiatives.
Palo Verde is committed to contributing to the local economy, ensuring the neighboring community is supported by generating new jobs and buying local foods and products, along with attracting new investors who share their vision of sustainable business practices. The lodge is helping people see the beauty of El Salvador while building up the community in which they operate.
Come for the eco-friendly mission and stay for the spa amenities at this green retreat in El Salvador!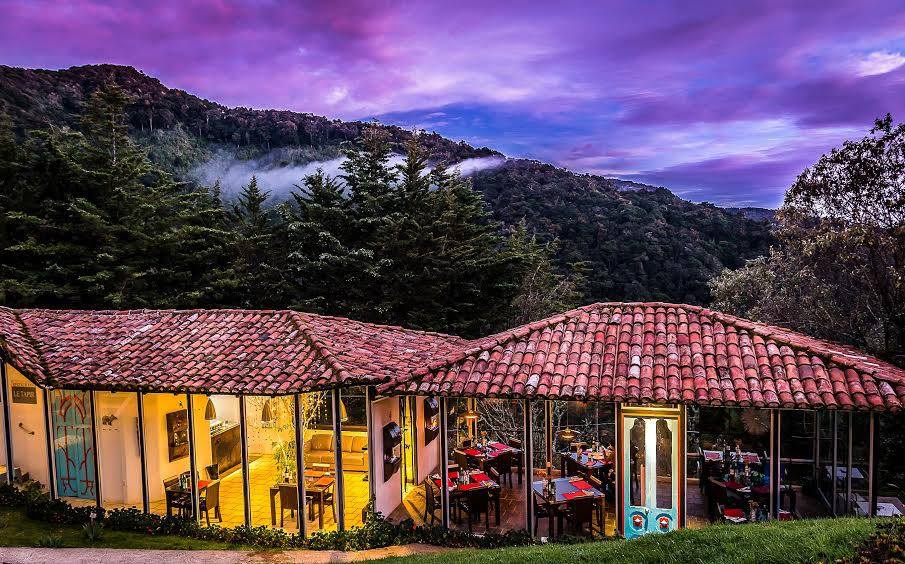 Dantica is a tried and true eco-lodge located in the middle of a forest reserve surrounded by national parks. From every inch of the property, you're encapsulated by jungle trees, wildlife, and clouds. You won't find many views better than this!
The lodge features many eco-friendly initiatives, including zero-energy water, solar panels for electricity, ethanol fireplaces run by sugar cane residue, biodegradable cleaning products and toiletries, composting and recycling services, home-grown organic gardens, and so much more.
Not only is Dantica a "low impact" facility, but most of the staff is comprised of local residents, and the lodge only uses local guides for tours and excursions. Along with generous donations to the surrounding community, the lodge contributes to ensuring local roads are cared for and national parks are maintained. Dantica is doing the right thing at every turn to ensure the environment and the local community are both preserved and protected.
Come and enjoy this little slice of paradise in Costa Rica and keep your head in the clouds!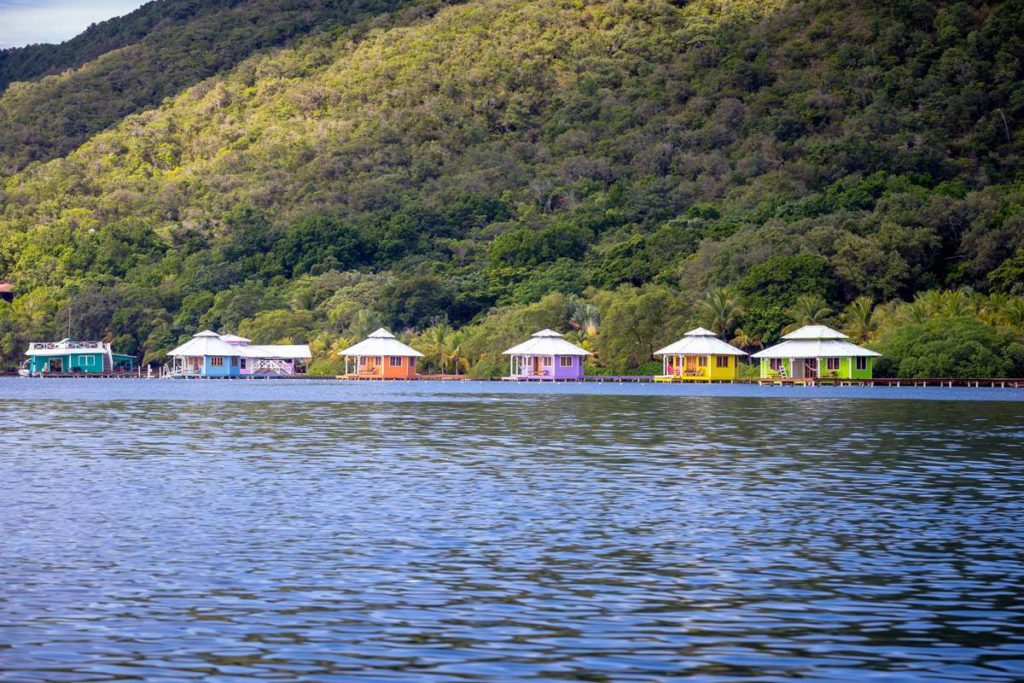 Mango Creek Lodge is nestled on the southeast shores of Roatan, Honduras, only accessible by boat. If you're looking for a romantic, eco-friendly, all-inclusive getaway, look no further than this premier property. You'll enjoy fresh, homemade meals and beverages, trips to uninhabited islands, and romantic touches from the staff at every turn. They offer fishing excursions and a variety of eco-activities to enjoy the area and learn about it, too!
The lodge features six over-water bungalows with private docks and decks for swimming. The property runs on solar and wind energy, which currently generates 85 percent of the power they use. The water is supplied by freshwater springs, and the facility uses grey and black-water waste systems, along with biodegradable soaps and cleaners. On top of their "low impact" facility, the lodge donates to local schools, participates in community clean-ups, and works with the local community on educational efforts.
This little slice of heaven has been recognized on an international scale for its eco-efforts, earning the Butterfly Award, a five-star rating from Eco Hotels of the World, and a five-star rating on Eco Tropical Resorts. This secluded lodge is the place to be in Honduras. Book now, and enjoy a romantic getaway!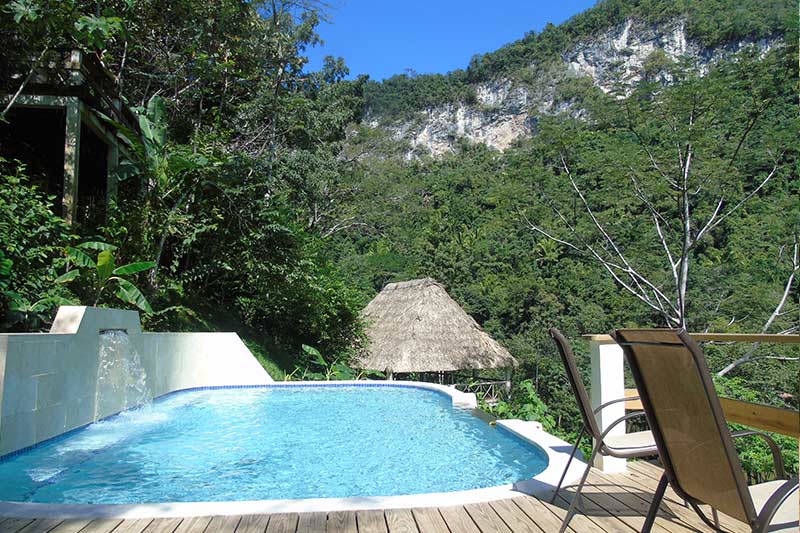 Black Rock Lodge is an immersive retreat in the dense rainforests of Belize. Located on the banks of the Macal River, you'll find 20 eco-friendly cabins surrounded by 250-acres of jungle beauty. From birding to exploring Mayan sites, you can do it all from this secluded respite in the heart of nature.
The lodge feels "enjoying nature means protecting it," which is why they've created a "low impact" facility for guests to enjoy and relax. The property is off-the-grid and relies on solar and hydro-power for electricity. The staff farms their own food, uses spring-fed water, and they've even created an eco-friendly wastewater system.
At Black Rock, you can enjoy an array of eco-activities, tours, and treks run by expert local guides who respect the environment and history of the area. The property runs a Belizean Kid's Camp, and they are part of the Pack for a Purpose program, asking travelers to bring specific supplies with them to the resort to benefit community projects. These are just a few of the initiatives this stellar ecolodge supports. Check out their website to learn more and book a trip to Belize!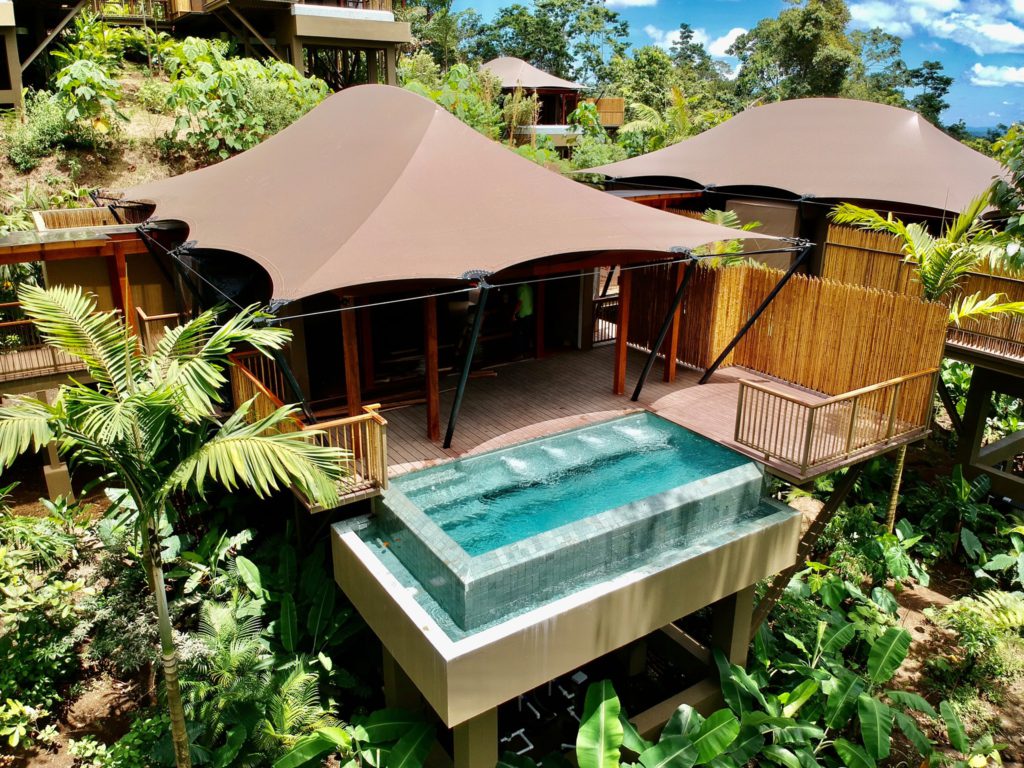 Nayara Tented Camp is a luxe eco-lodge located on a clifftop overlooking the pristine rainforest with clear mountain views. It doesn't get much better than this high-end Costa Rican getaway! Their mission is to share their "Pura Vida" tradition by fostering cultural awareness and sustainable tourism. The staff is mainly comprised of locals who are proud to showcase their heritage and culture through "heartfelt hospitality".
The camp is set up to maximize the heat from the sun while minimizing the need for AC and heating. The facility uses energy-conserving light bulbs and lighting systems, along with low-flow faucets and toilets. The property offers healthy and sustainable food with local ingredients and seasonal products to support the local economy and the land itself. They also use glass and other reusable materials to reduce single-use plastics on site. Since opening, they've helped restore 30 acres of jungle by planting thousands of trees and maintaining the land.
On top of the green initiatives on the property, the lodge offers their staff free transportation, sustainable tourism education, and health services, along with free early education for employee children and donations to local schools and art projects. Nayara aims to give back to the community as much as it gives to its guests. You won't regret a trip to this jungle paradise!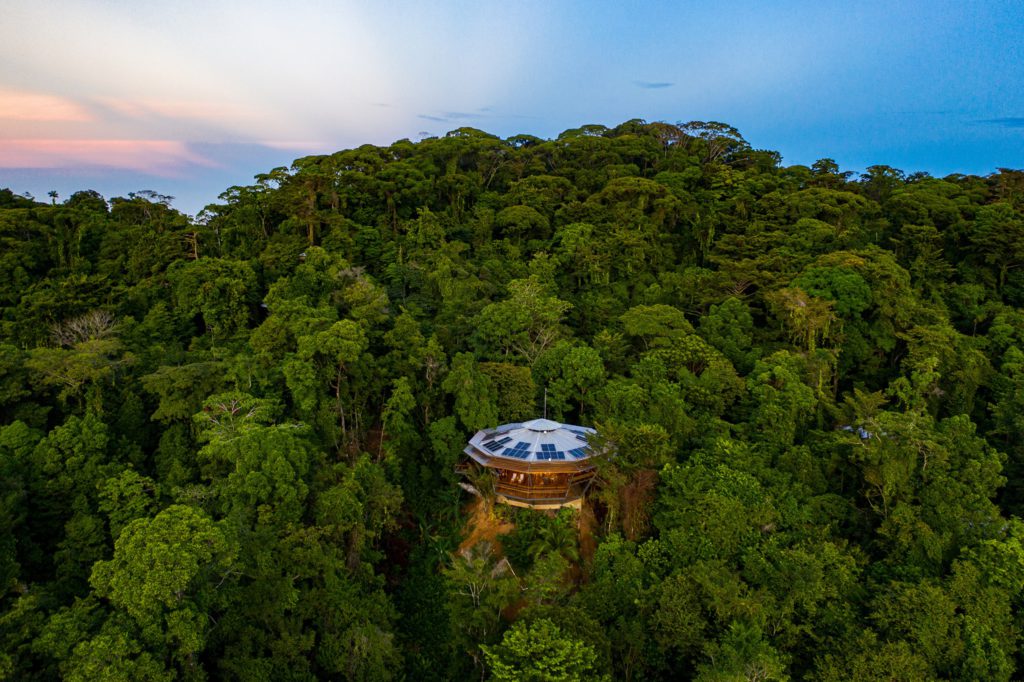 La Loma sits in the heart of the Isla Bastimentos rainforest on 55 acres of tropical forest, groves of fruit trees, and the Bahia Honda Bay shores. The property abuts the National Marine Park and can only be accessed by boat, making a trip here a truly immersive experience.
​This Panamanian lodge was built on the concept of natural luxury while protecting its precious environment and the lives of its inhabitants. The property is completely off-grid and uses a solar energy system for power. Their water source is mostly rain-caught, but they use a natural spring, too, with a three-stage purification system. Each Bungalow has low-energy LED lighting, and no high-energy electronics are allowed.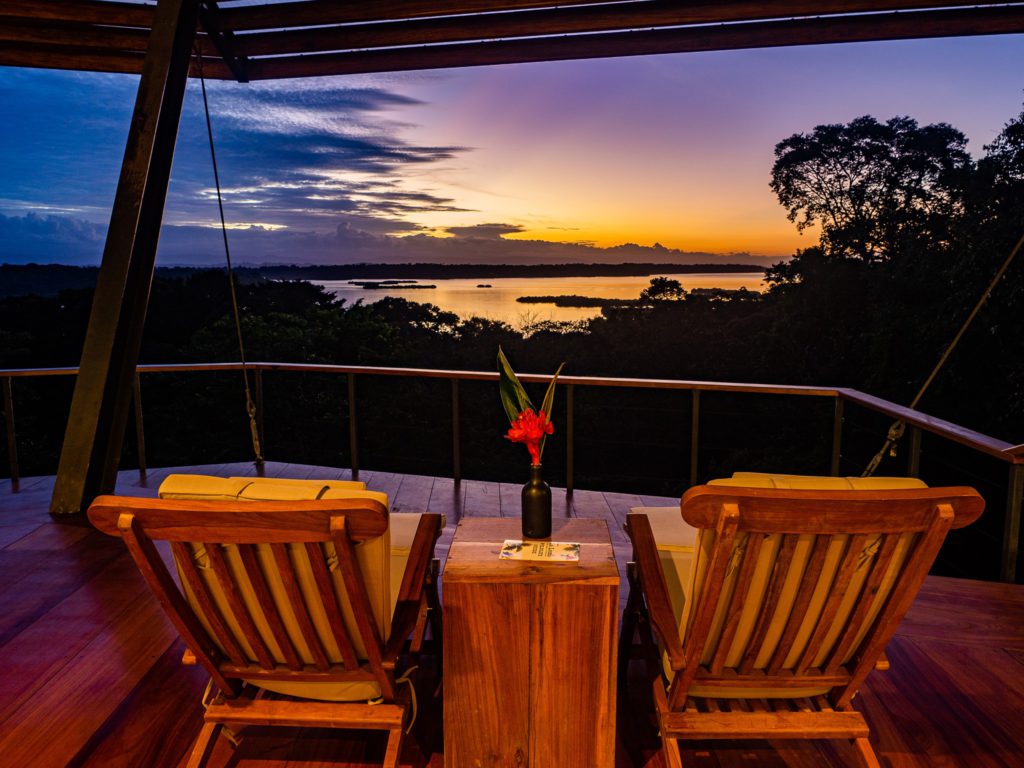 The property boasts a farm-to-table dining experience with local products and seasonal ingredients. Their permaculture farm grows a variety of tropical fruits, produce, and herbs that you'll enjoy at every meal. The lodge also produces 100 percent pure chocolate onsite from the cacao trees all around. Learn about eco-farming while you rest and relax at this luxe getaway!
The Table Rock Jungle Lodge was born out of a desire to release fast-paced living and go off the grid in a sustainable way. The lodge itself is located on a 105-acre eco-reserve featuring 10 cabanas, farm-to-table dining, and an array of eco-activities that aim to teach and create enjoyment.
Table Rock uses solar power only for electricity, they keep the guest count to a minimum to preserve resources, and they employ local villagers to ensure the surrounding communities are cared for. No high-powered electronics are allowed on-site, as they push to conserve energy and cool their cabins with fans. They use purified rain and river water and have a purely organic farm for their dining experiences. Their farm is home to Maya natives and features fruits, eggs, vegetables, and herbs.
The staff works hard to preserve the natural surroundings by planting indigenous trees and plants through their Mahogany Reforestation Project. They also focus staff efforts on their cultural impact, making genuine connections with the indigenous community of Cristo Rey Village. The eco-friendly list goes on in this incredible place and will continue for years to come with the help of travelers who wish to reconnect with nature. Belize is calling your name!
When booking your next trip to Central America, reach out to TourHero and explore our eco-friendly options to ensure you are doing your part to maintain this beautiful planet. We can help you book the trip of your dreams and reduce your carbon footprint in the process!
---
About TourHero
TourHero is a social travel platform that enables you to travel with like-minded people and fall in love with the journey. We work closely with handpicked local operators to ensure every experience curated is unique and exclusive to your travel group. Come with us on epic adventures and create memories that last a lifetime!