It's not so long ago that overseas and remote work consisted of either teaching or taking on some lucrative diplomatic position. The digital revolution has changed that, creating a range of jobs that can be done from anywhere with an internet connection.
There's a world of remote work opportunities out there, and getting an 'in' is the hardest part. However, with a little knowledge and prior planning, it's perfectly possible to leave the 9-to-5 behind and take off to the destination of your choice, funding your adventures as you go. From digital jobs to teaching and even farm work in far-off places, the chances are there if you know where to look, so look no further!
Blogging
Remote bloggers often have the luxury of creating content from wherever they feel most comfortable — by the poolside, in a cabana, at a cozy cafe somewhere in the middle of nowhere, or right on the beach, as long as Wi-Fi isn't a concern. And this blog content can come in many forms. Some set up blogs to talk about their travel experiences in-depth. Many will offer information on visiting specific places and become online tour guides in the process. It's common to see such bloggers earn money through affiliate links, thus monetizing their adventures. Others are simply freelance writers, offering content across multiple industries.
If you've got your eye on the latter, experience is necessary — amateur writers are in low demand. Given you'll most likely be working on web content, knowledge of SEO is a must. You may be able to secure a remote working opportunity from your home country before setting off, which helps a great deal. Check out job listings via the likes of LinkedIn, or register with a freelance website such as Upwork (see below).
Digital marketing
Beyond blogging, it's possible to go a little deeper and work in all manner of digital marketing roles. There are countless freelance professionals working in specific niches, including SEO remote jobs, PPC, PR, or social media marketing. Developers and graphic designers are also in high demand. And alongside these are plenty of admin-related opportunities, from managing the workload of remote teams to secretarial work. The key is to look for digital opportunities rather than office-bound roles. Many companies these days make it clear whether a remote position needs to be filled, so filter your search and make it work for you.
It also helps to already have the right tools and equipment with you to make the transition into your remote position that much smoother. Without the help of a traditional office, where a HR team might be on-call to assist, you might have to "go it alone" in many cases. Perhaps you need to set up your own high-speed internet to take frequent video calls or ensure you have access to cloud services to ensure you always have a backup of your work should anything unexpected happen. Those working the social media marketing freelance game may need to ensure their devices (phones, laptops, tablets, cameras) are equipped to handle an influx of Instagram, Facebook, YouTube, LinkedIn, and Twitter posts for multiple clients.
Find opportunities on freelance websites
A quick Google search will bring up countless websites offering opportunities for freelancers, in a myriad of fields. These are often digital-related, so they may be more suited to writers, developers, graphic designers and the like. Upwork and Fiverr are just two examples. You'll need to set up a profile, and choose an hourly rate to get started.
If you're brand new to freelancing, you may need to charge less than you'd like in order to get work and secure reviews that will help your cause in the future. Be aware that many sites have relatively high commission structures, meaning you'll have to pay the company a percentage of everything you earn. But they can be a great way of getting yourself known, making contacts, and fulfilling your remote work dream!
Teaching jobs
Many native English speakers choose the teaching route, and it's obvious why. You'll find a lot of remote jobs in this sector, across the world! Some companies will give preference to native speakers, but don't let that put you off from applying. Timing has a part to play, and many will have more relaxed employment policies at different times of the year — i.e. when there's a staff shortage. Be on the lookout!
Online teaching
Teaching online allows you to country-hop without needing to secure new employment each time. Online teaching normally involves teaching the English language (or another) to beginner students, and can involve children, teenagers or even adults. Be sure to look at the time zones of the people you'll be teaching — few people enjoy getting up at 2 am to go to work! As with teaching at an English-language school, you'll likely be working in the evening and over the weekends, so keep this in mind.
You'll find a host of opportunities in this sector, so do your research. Pay scales differ wildly, and it may be useful to register with two or more agencies. One of the better-known online teaching companies is China's Palfish, with all work being done from your mobile phone. Most agencies will prefer native speakers and require a TEFL or TESOL teaching certificate. With the right qualifications, you could even secure an online teaching job before you travel.
Classroom teaching
Moving away from remote work, teaching offers a lot of opportunities for working overseas so you may still hit those travel goals. On a face-to-face basis, these in-person teaching opportunities generally fall into three main categories:
International schools
These are regular schools, only a different language is used to a country's native one — imagine an English, French or Russian-speaking school, existing somewhere in Asia. They're predominantly used by expat children, but may be a mix of expats and locals and come with a fee. International schools follow a curriculum and normally require a degree in teaching plus some experience gained in classrooms in your home country.
English-language schools
These are schools that purely teach the English language. They often work around regular school hours, so involve a lot of evening and weekend work. Official teaching qualifications are usually not needed, but a TEFL or TESOL certificate is often needed.
Hotels and other businesses
Aside from more conventional classroom teaching or conducting online classes, you may find work in the hospitality industry or even in business. Hotels with a high number of international visitors may be looking to improve the English-speaking skills of their staff, and employ one or more teachers to do so.
Alongside a TEFL or TESOL certificate, you may need some knowledge related to hotel work — for example, in food, beverages, or wellness. Staff will likely know basic English and be needing to brush up on terms related to their daily jobs.
Try Workaway or similar work-while-overseas schemes
Another non-remote but great overseas working opportunity may be found in Workaway. This is a scheme that enables travelers to work on a non-monetary basis. Each opportunity will be different, but employers will typically offer paid-for accommodation and/or food for a set number of hours each week, so your living expenses are greatly reduced.
Workaway has opportunities across the world and in many different fields. There are normally a lot of digital roles to fill, but other areas may include hospitality, farm work or even teaching English to a family's children whilst living at their home for free. Who knows? You might find some very fulfilling experiences along the way!
Charity work
Charity-based work has a huge scope, so it's probably best to have a travel destination in mind before you start exploring this field. Some will be looking for experts, others for more manual workers. You'll likely have to agree to a set period in advance.
Very much volunteer-based, charity work may pay nothing, or may run along similar lines to Workaway, with board and food thrown in. But, of course, this can become a very fulfilling way to see the world. If you manage to secure work for a large, international organization, you may be able to transfer between different countries and see multiple places in a way that you never thought was possible.
Become a TourHero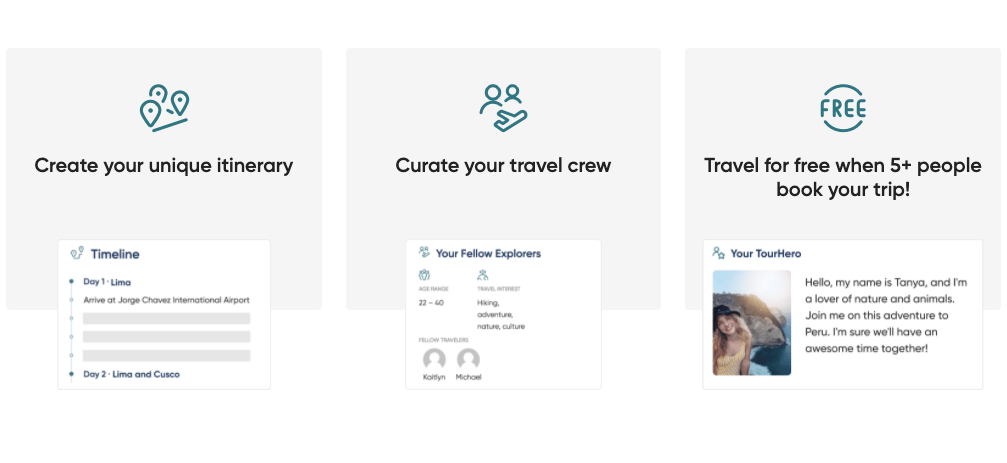 Last but not least, why not join us and become a TourHero? Making the most of our unique opportunity will enable you to select a destination of your choice as well as the activities you indulge in whilst there. The best part? Once you curate your dream itinerary with us, you (as the TourHero) get to travel for free when five or more people book your trip. And you can do this with as many trips as you want — the only "work" you need to do is hit that minimum number of travel companions and you're set to jet! You could easily travel non-stop all year long if you wanted, for a tiny fraction of the cost.
Getting started is easy:
Get in touch and tell us your travel preferences
Browse our itineraries, select one that you like and customize it
Organize a crew to travel with you
Enjoy your epic free trip with like-minded people
We've curated destinations across North, Central and South America, and Europe too. Plus you'll find everything from party trips to cruises, adventures in mountains, immersive jungle treks, city sightseeing tours, and more. Becoming a TourHero is a great way of starting — or furthering — your own travel journey!
---
Overseas and remote work may sound like a pipedream to many, but the past few years have seen the concept grow. With so many companies going remote, there's never been a better time to leave the office behind. We wish you all the best with your remote work dream and lots of fun on your travel adventures!
---
About TourHero
TourHero is a social travel platform that enables you to travel with like-minded people and fall in love with the journey. We work closely with handpicked local operators to ensure every experience curated is unique and exclusive to your travel group. Come with us on epic adventures and create memories that last a lifetime!