When planning a destination wellness retreat, selecting a location is key. Here are some popular and off the beaten path options for your next group adventure. From beachside fun to jungle respites, you'll find it all on this comprehensive list!
Costa Rica
Costa Rica is the perfect mix of beaches, adventure, and nature all wrapped into one. It's no wonder why so many retreats are hosted in this tropical country each year.
When planning a retreat in Costa Rica, there are a few thematic options when it comes to accommodation and location.
Nature/eco-friendly retreats: Costa Rica offers a variety of nature-based retreats, also known as eco-friendly retreats. Areas such as Manuel Antonio, La Fortuna, and Monteverde are perfect for ecotourism — a form of responsible travel that ensures the environment and local communities are positively affected by tourism. From bungalow huts and vegetarian fare to jungle activities and cultural experiences, creating a nature-based retreat will complement these regions in ways you never imagined.
Beachside fun: Whether you're looking to plan a wellness retreat geared towards surfing, yoga, body movement, or a mix of all three, there are a ton of locations all over Costa Rica that can accommodate your needs. Areas such as Jaco, Tamarindo, Nosara, and Puerto Viejo are top choices. In all the areas listed here, you'll find energetic downtowns with stellar local food options, pristine beaches, chill tropical vibes, and nightlife fun. They all boast a variety of accommodation types, too. From boho hostels with vegan fare to high-end resorts with all-inclusive everything, you really can have it all in Costa Rica.
The best part about hosting a retreat in Costa Rica is that from all locations, you'll have easy access to adventure activities and cultural excursions, such as ATV rides through the jungle, connections with local communities through cooking classes and village visits, cloud forest hikes, kayaking excursions, and so much more.
Mexico
Mexico has been a top vacation destination for decades, but it's also home to an array of wellness retreat options. This magnificent country features pristine beaches, ancient history, cultural depth, and stellar gastronomy. Whether you're looking to create a tranquil yoga retreat in the jungle or an energetic beachside fitness adventure, Mexico can fit all your wants and needs.
Here are just a few of the top locations to consider when creating your next getaway.
Tulum: Tulum is known for its sugar-white sand beaches, nature activities, and magnificent Mayan ruins that peer over the coastline. It's no wonder many flock here each year to rest, relax, and explore. Tulum has an array of stellar beach resorts, but it's also home to jungle bungalows, eco-friendly options, and smaller retreat centers that can give you peace, tranquility, and the perfect space to cultivate your inner landscape. From kayaking excursions and cenote swims to sunrise yoga sessions and fitness coaching on the beach, Tulum is a stellar option for any type of wellness getaway.
Bacalar: Bacalar is best known for its Lake of Seven Colors, situated near the border of Belize. Unlike most of Mexico's popular tourist spots, Bacalar doesn't have the vibrant nightlife and bustling atmosphere of the rest. This is the ultimate location for relaxation, inner work, and activities such as swimming, boating, kayaking, paddle boarding, yoga, and more. You can glamp, you can stay in a bungalow, or you can opt for a larger resort that has everything you need for a hassle-free experience. For a true respite away from the busy world, Bacalar is a stellar choice.
Oaxaca: Oaxaca is a lot like Bacalar in that it's off the beaten path most take when they come to Mexico. From its vibrant downtown with history and culture to its fabulous shorelines with surfing, sand, and sun, this Mexican gem can give you all that the main tourist spots can but with less people and lower prices.
Siem Reap, Cambodia
Siem Reap is known for its incredible Angkor Wat archeological park, but it's also home to various wellness retreats and wellness-centered accommodations. The area hosts a variety of yoga retreats, historical tours in the park, hiking and biking tours, along with an array of opportunities to learn about local culture through guided experiences, food, and nature fun.
The jungle backdrop makes this the perfect location to work on your inner landscape, relax in a spiritual environment, and connect with another culture that is brimming with history and tradition. By day, work on your yoga practice and meditation in a variety of sacred locations, and by night, head downtown to the night market for souvenirs and food. Away from hoards of tourists, Siem Reap is calling your name!
Bali, Indonesia
Bali is a well-known wellness retreat destination, and rightly so. This island oasis has everything: beaches, jungles, cultural immersions, history, and delectable food. While the entire island has something to offer anyone looking to create a destination wellness retreat, there are two main locations most retreaters choose.
Ubud: The jungle sanctuary of Ubud is a top wellness retreat destination, mainly drawing yoga, empowerment, and spiritual retreats due to its location. This spiritual hub features luxe resorts, nature activities such as waterfall and volcano hikes, cultural immersions with local healers, cooperatives and village visits, and an array of vegetarian and vegan fare to choose from. Many resorts here cater to the yoga crowd, along with a variety of studios in the area, too. In between wellness sessions, you can travel to the holy water temple springs for a purification ceremony, tour a coffee plantation, swing high over the rice paddies on a giant swing, and travel around the island for a variety of food options.
Kuta: For those looking to enjoy a retreat and hang on the shoreline, Kuta is the best option. This area features an array of resort types fitting all budgets, along with yoga studios, cultural activities, historic tours, and endless food options. Kuta is also a great location for staying active with surfing, paddle boarding, and an array of adventure activities to keep your body moving. From high-energy retreats to peaceful getaways, Kuta can serve all your needs.
Morocco
Morocco is another hidden gem of wellness gold that is growing in popularity. Here, you can wander the souks, laze on the shoreline, camp in the desert, and hike in the mountains — all in one trip! Depending on the type of retreat you wish to create, there are many areas to consider.
Marrakech: A well-known marketplace of souks, history, and culture, Marrakech is the perfect location for any retreat. You'll find incredible food options for all budgets, all types of tours, and an array of accommodation choices. You can stay at a small riad in the medina and enjoy morning yoga on the roof or book a high-end resort just outside the old city and have an array of restaurants, pools, and relaxation areas at your fingertips.
Desert camping: If you're looking to connect with nature and learn about Berber culture, a desert excursion is a must. Agafay and Merzouga both offer camping options with areas for yoga, fitness, and empowerment classes. Some campsites feature the bare minimum for a true cultural immersion. Others feature pools, on-site restaurants, and areas for fitness fun. The best part? You can choose this option as a one- or two-night add-on to your retreat in Marrakech to enjoy both the bustling city and the tranquil desert oasis.
Beachside fun: Essaouira, Taghazout, and Agadir are three top locations for beachside retreats. From yoga and surfing to great food and cultural fun, these three coastal havens offer the perfect blend of relaxation and activity to make any retreat a success. Here, you'll also find many retreats geared towards yoga and meditation, surfing, and empowerment. Fitting all budgets and needs, creating a wellness retreat in coastal Morocco is sure to impress!
Tanzania
Many travel to Tanzania to see majestic animals on game drives and sugar-white sand beaches on the islands, but did you know this magnificent country is the perfect spot for a wellness retreat? Culture, history, nature, and soul thrive in this republic, making it the perfect place for your next getaway.
Mainland: Tanzania offers a wide array of activities, making it perfect for a variety of retreat types. See the famed Kilimanjaro, go on a safari drive to observe the big five in a wealth of national parks, and connect with local tribes to better understand the culture and history of this incredible landscape. You can book a high-end resort, you can glamp it up at the parks, or you can stay near the small villages and towns that are the backbone of the republic.
Zanzibar: The idyllic island of Zanzibar is known for its sugar-white sand beaches and turquoise waters, but this location is ideal for hosting retreats. Not only are there cultural tours and activities to fill your time, but many resorts offer space for yoga and fitness, along with a variety of water sports to keep you active. Come here to relax with a group of like-minded people, hone your meditation practice, or get active on the beach and work towards your fitness goals in a true paradise.
Peru
Peru is one of the cradles of civilization, so it's no wonder why many flock to this magical country to hike the Inca Trail, eat the delicious food, and learn all about the history of the people who watch over this sacred location. From high-end wellness resorts to backpacking expeditions, there's no shortage of opportunities for a stellar wellness retreat.
Cusco: Cusco is the ancient capital of Peru, reflecting the deep cultural roots of the land and its people. Many come to this vibrant city to explore their inner landscape, along with its incredible history. It's a great location to offer a cultural, spiritual, or body movement retreat, and it's also the perfect starting point for an epic wellness journey through the Sacred Valley.
Sacred Valley: Urubamba, also known as the gateway to the Sacred Valley, brings spiritual seekers and nature lovers of all kinds. Here, you can stay at a variety of accommodations for yoga, hiking, and culture. After a morning class or workshop, head out to the markets of Pisac, tour the Ollantaytambo ruins, learn about the agriculturally innovative Moray, and meet the locals in Chinchero at a weaving demonstration.
Inca Trail/Machu Picchu: For fitness fanatics and spiritual seekers, planning a trek along the Inca Trail is a must. Not only is the experience great for your body, but the spiritual and cultural connections you'll make along the way will be life-changing to say the least! Hike a portion or all of the trail with expert guides and see Machu Picchu as the ancient Incas did as you trek down into the citadel.
Lake Atitlán, Guatemala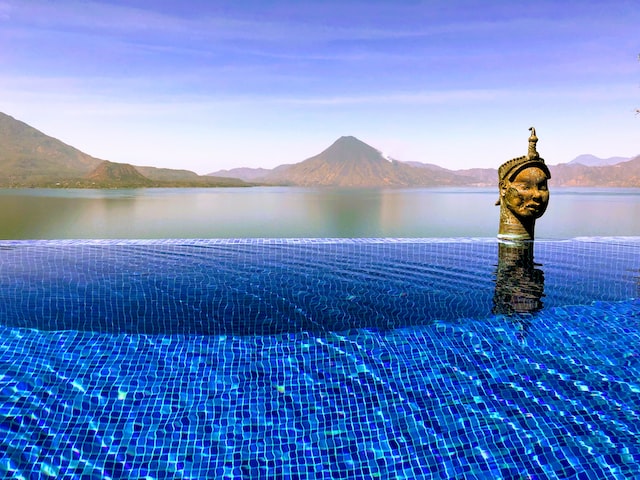 Believe it or not, Guatemala is the next hot spot for wellness retreats, especially in the Lake Atitlán area. Here, there are a wealth of luxe and affordable accommodations that feature yoga, spiritual experiences, community engagement, and healthy fare.
During the day, you can take boat rides and immerse yourself in indigenous culture through communal meals and market trips. At night, enjoy body movement and bonfires as the sun sets over the mountains. You can paddle board, focus on healthy eating, partake in Temazcal and cacao ceremonies, and much more. For a truly secluded and magical getaway, Lake Atitlán is a perfect wellness retreat destination.
Sedona, Arizona
Located in the red rocks of Arizona, Sedona has been a long-time pilgrimage site for yogis, healers, and spiritual seekers of all kinds. It's also home to a serious art scene. The beautiful rocky backdrop creates a magical vibe, and many believe this area is a vortex of sacred energy. Pair the location itself with the many stores, cafes, and art galleries downtown, and you have a stellar location for any type of retreat.
Sedona features an array of accommodation types, too. You'll find everything from small retreat centers to large, name-brand hotels. You can practice yoga in the desert, hike in the parks, take part in various art classes, and breathe in the fresh air of change at every turn.
---
About TourHero
TourHero is a social travel platform that enables you to travel with like-minded people and fall in love with the journey. We work closely with handpicked local operators to ensure every experience curated is unique and exclusive to your travel group. Come with us on epic adventures and create memories that last a lifetime!