Looking for things to do in Costa Rica? Well, you've come to the right place! Picture-perfect beaches, lush green rainforests, outdoor fun and a genuine commitment to eco-tourism make Costa Rica a traveler's delight. From relaxation to exhilaration, volcanoes, waterfalls and wildlife, the region has something to delight everyone. With good weather all year round, the best time to visit Costa Rica is NOW, so check out our top 10 highlights and get planning your trip.
Outdoor adventures in Monteverde Rainforest
Monteverde Rainforest is Costa Rica's most famous cloud forest. The regular cloud coverage adds extra moisture to the plants, trees and earth, resulting in an incredibly diverse ecosystem. Alongside species-spotting, there's a great range of activities available for adventurers, from hiking trails to ziplining, waterfall rappelling and even bungee jumping. Take excursions into the forest by day or night and see how many of the 1,200 species you can find.
Address: Carr. a Reserva de Monteverde, Provincia de Puntarenas, Monteverde
Discover San Jose, the Costa Rican capital
Costa Rica's capital is a bustling city full of friendly locals, culture and fascinating museums. Check out Central Avenue, a great place to sit and watch the world go by. Dive into the iconic Central Market to taste some local delicacies, and be sure to visit the National Museum for the full lowdown on Costa Rica's colorful history. Book a show at the fabulous National Theater and don't forget to sample some incredible coffee at one of the many coffee shops! You'll taste some of the finest in the world on a visit to San Jose.
Address: San Jose Province
Journey to the epic Arenal Volcano
The Arenal Volcano should be on everyone's things-to-do-in-Costa-Rica bucket list. Standing at an impressive 1,633 meters high with a 140-meter crater, you'll see this spectacular volcano from miles away and feel its pull from a distance. Up close, it's a fascinating place, jutting out into the sky amid lush green forests. This volcanic region has plenty of activities on offer, from horse-riding and ziplining to off-roading around the volcano itself. You'll also find whitewater rafting available on the nearby Sarapiqui River.
Address: Alajuela Province, San Carlos
Rejuvenate in the Tabacón Hot Springs
The Tabacón Hot Springs are set in the Tabacón Thermal Resort and can be visited by purchasing a day pass. This is also the location of the biggest collection of natural hot springs in Costa Rica! The warm water here is naturally full of healing vitamins and minerals, leaving your skin smooth and your mind revitalized. The gorgeous mountain views you'll find as you float around merrily do wonders for the soul as well.
Address: 21007, Provincia de Alajuela, La Fortuna
Relax on the gorgeous Caribbean Coast
Travel to Costa Rica and you'll find some of the most beautiful beaches on Earth. Miles of white sand and clear blue waters are perfect for lounging, enjoying a cocktail or getting involved in some epic watersports. But where best to go?
Well, you'll find gorgeous sights pretty much everywhere you travel, but keep the following three in mind for starters. Firstly, Jaco Beach. It's close to San Jose and its surf is just as good as its sunsets. Secondly, Tamarindo Beach is a popular tropical paradise with even better waves than Jaco. Finally, Playa Manuel Antonio is on the edge of a spectacular national park and offers an unbeatable wildlife experience alongside sea and sand. While you're there, don't forget to check the national park itself — check out the next item on our list!
Addresses:
Visit Manuel Antonio National Park
Manuel Antonio is Costa Rica's smallest national park, but its position near the coastline opens up a range of extra possibilities. Kayaking, surfing and snorkeling are on your doorstep, and in the forest itself is where you'll discover a truly diverse landscape. Here, it's hiking trails galore, plus you'll have ample opportunity for horse-riding and all-terrain vehicle rides if you're in search of something a little bit different.
Address: Puntarenas Province
Go whitewater rafting on the Pacuare River
The Pacuare River is one of the world's finest water-rafting spots, winding through the jungle to flow out into the Caribbean Sea. There are rapids to match all abilities, and on some of the quieter sections, you may even be able to spot some big cats and monkeys popping their heads out from the dense undergrowth to pass comment on your abilities! Keep your eyes peeled!
Address: Limón Province
Visit a mysterious relic
For those who like a mix of history, culture and intrigue, Costa Rica's 300+ petrospheres are a must-see. You'll find them on the Diquis Delta, dating back to the ancient Diquis culture who lived in Costa Rica between 700 and 1530 AD. The stones were forgotten for many years until they were rediscovered in the 1930s. Even today, no one is quite sure why they were made, and to stand amid such epic carvings is a truly humbling experience. For something completely different, be sure to add this to your list of things to do in Costa Rica.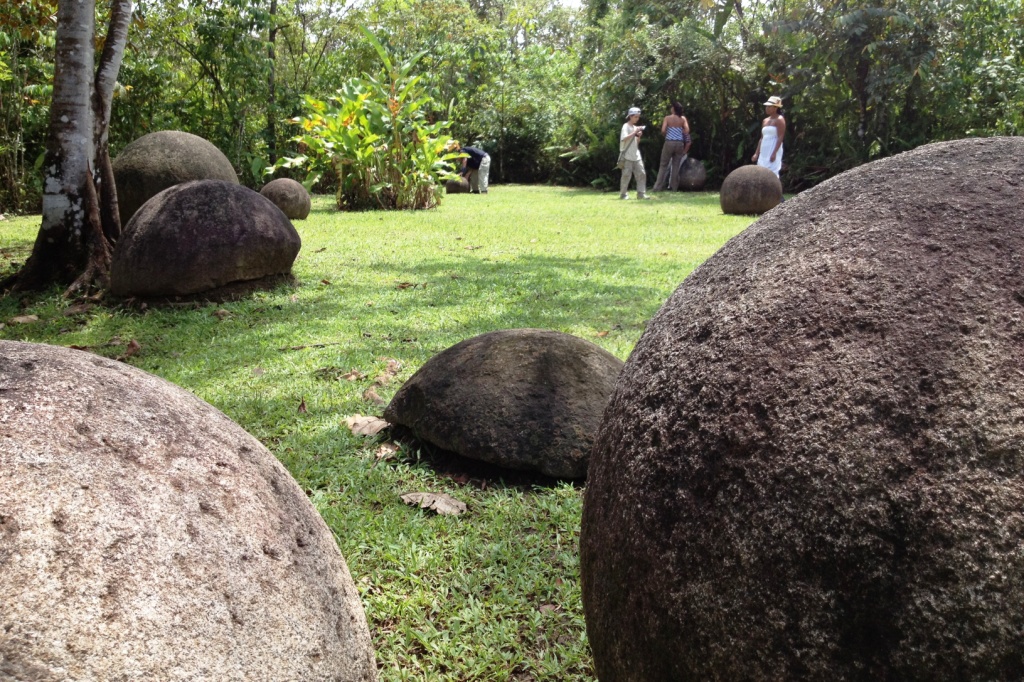 Address: 34, Puntarenas Province
Admire the largest waterfall in Costa Rica
In a region full of waterfalls, Del Toro is the longest and most impressive. Given its relatively remote location through jungle-lands, it also tends to be quieter than many others — the lack of crowds offers a great reason to visit. A handy trail through the foliage leads you to Del Toro. The water thunders down for 90 meters into the crater of an extinct volcano. Combined with the jungle hike, this is definitely a great off-the-beaten-track Costa Rican adventure.
Address: 6 kilometers north of de la iglesia Alajuela, Bajos del Toro
Go crocodile-sighting at Rio Tárcoles
The Tárcoles River flows southwest across Costa Rica, eventually emptying into the Pacific Ocean. It's on this river that you'll find the very best place to see crocodiles in the whole region! Travel to the small village of Tárcoles and head for the bridge that crosses the river. Peer down into the water below and prepare to meet some seriously big snappers! This section of the river is absolutely full of American crocs — a surprising sight for many travelers to the area. Needless to say, the Tárcoles is NOT for swimming.
Address: 1 kilometer north of de la Iglesia Católica en Tarcoles
We hope you've enjoyed our top 10 things to do in Costa Rica. Be sure to try as many as you can on your travels. Now grab your map, pen and paper, and coffee — Costa Rican of course — and start planning your adventure! Still not convinced Costa Rica is the place to be? Check out our two-minute guide "Why travel to Costa Rica?" to discover more of the country's best highlights!
---
About TourHero
TourHero is a social travel platform that enables you to travel with like-minded people and fall in love with the journey. We work closely with handpicked local operators to ensure every experience curated is unique and exclusive to your travel group. Come with us on epic adventures and create memories that last a lifetime!