A British-style city lies hidden in the heart of Sri Lanka's hill country at an altitude of 1,868 meters. Step into Nuwara Eliya, a charming city located in the Central Province of Sri Lanka. Known as "Little England", Nuwara Eliya exudes old-world charm with its picturesque landscapes, colonial-era architecture, and misty temperate climate.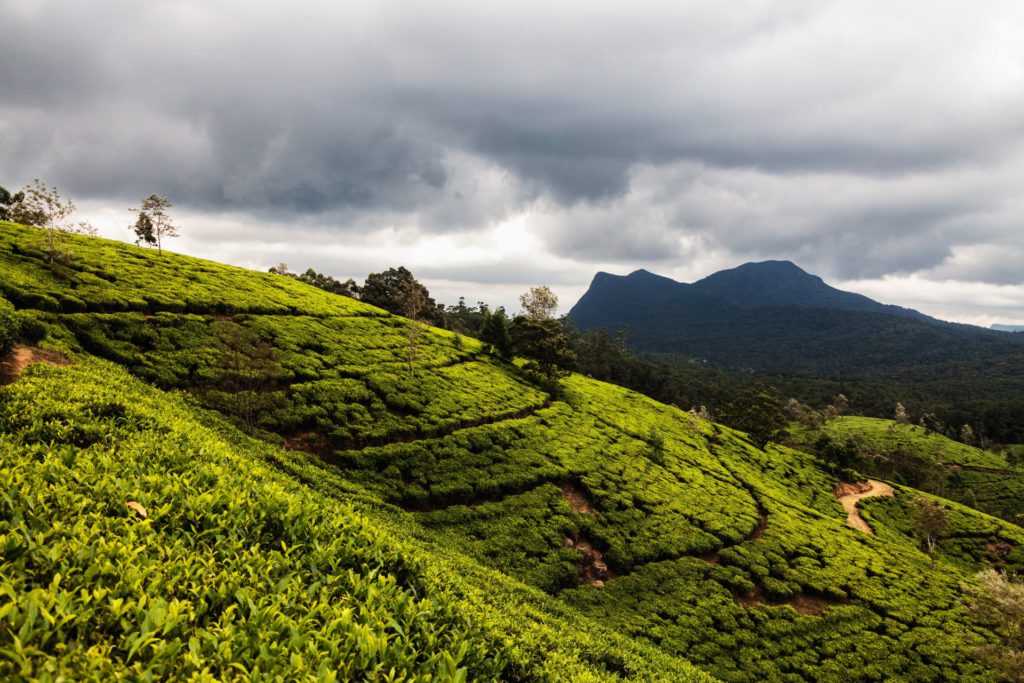 Nuwara Eliya is best known for being the most important tea production hub in Sri Lanka. Nuwara Eliya's highland location and temperate climate are ideal conditions for tea to be grown, which have led the city to become a key contributor to Sri Lanka's tea exports. Presently, Sri Lanka is the fourth-largest tea producer in the world, most famous for its Ceylon tea. Visit one of the many tea plantations in Nuwara Eliya and sample world-famous teas. Make your experience truly unforgettable by staying a night at a tea plantation in one of our favorite luxurious tea plantation hotels.
Beyond its vast tea pastures, a visit to Nuwara Eliya is not complete without exploring the 15 majestic waterfalls scattered across the area. Swim in refreshing rock pools or hike to the top for incredible views of the Nuwara Eliya landscape. We've picked out eight of the best waterfalls to visit and stay at for the perfect Nuwara Eliya getaway.
Lover's Leap
Lover's Leap is a stunning 30-meter-high waterfall tucked away in Nuwara Eliya's countryside. Water from the streams and brooks of the highest mountain in Sri Lanka, Pidurutalagala Mountain, pour down into this impressive waterfall. Its name, Lover's Leap, comes from the tragic tale of two forbidden lovers plunging to their deaths to ensure eternal love. Despite the haunting tale, this cascading waterfall is especially beautiful from its peak. Gaze down on manicured tea plantations that stretch across the expanse and bask in the cool spray of this incredible creation of nature.
Getting there: You can reach Lover's Leap by taxi or tuk tuk from the Nuwara Eliya city center. Drop off at the entrance to Pedro Tea Estate and follow the only route up into the hills opposite the estate's entrance.
Jetwing St. Andrews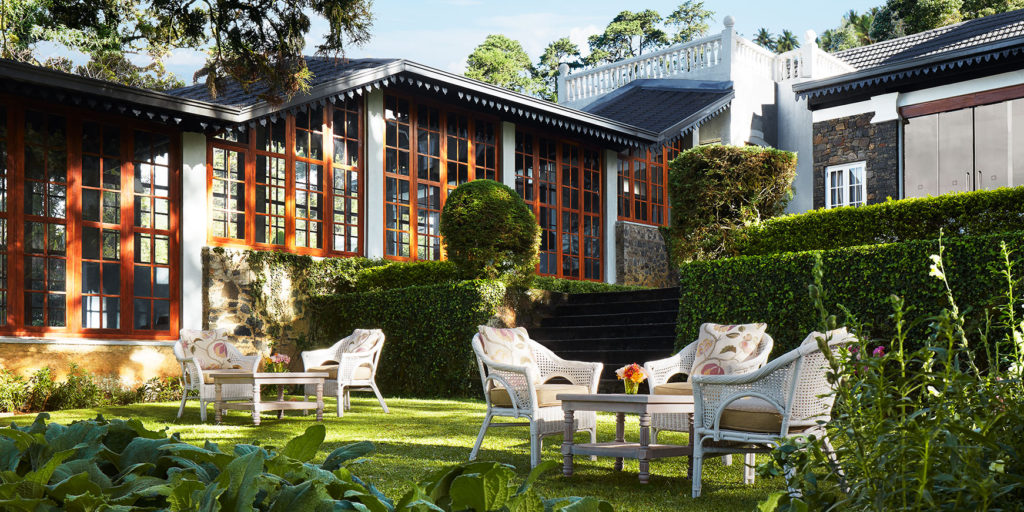 Address: No. 10, St. Andrew's Road, Nuwara Eliya 22200, Sri Lanka
Jetwing St. Andrews is a gorgeous five-star Georgian-style country mansion hotel. This intricately-furnished mansion mixes modern and traditional elegance with its fine wood furnishings, the perfect combination for a luxurious and memorable stay in the highlands of Nuwara Eliya. Book guided tours directly through the hotel to discover the scenic surrounding landscape and Lover's Leap waterfall.
Bomburu Ella Falls
Bomburu Ella Falls is Sri Lanka's widest waterfall made up of about 10 smaller waterfalls. This majestic waterfall is 50 meters high and is located in the Sitha Eliya Kandapola Forest Reserve. Framed by the lush forest, this picture-perfect waterfall has been dubbed as one of Sri Lanka's most beautiful waterfalls. Experience the sheer power of this impressive waterfall when you stand at the foot of this stunning beauty.
Getting there: Take a tuk tuk from Nuwara Eliya to Bomburu Ella Village. Only a few buses are available to Bomburu Ella Village.
Little England by Celeste
Address: 80/11, Little England Cottages, Moon Plains, 22200, Sri Lanka
Step into Old England at Little England by Celeste. Snuggle up in your cozy English-style cottage at Little England by Celeste. This private getaway comes complete with your very own butler service and fireplace to keep warm in the highland's chilly weather. Best of all, this private escape is only located three kilometers away from the Nuwara Eliya city center.
Bambarakanda Falls
Standing at a towering 263 meters, Bambarakanda Falls is the tallest waterfall in Sri Lanka. This remote waterfall can only be accessed by a narrow unpaved road off the main highway between Belihul Oya and Haputale. To experience the full grandeur of this behemoth waterfall, visit the falls during the rainy season of March and April.
Getting there: Bambarakanda Falls is the furthest waterfall from Nuwara Eliya on our list. The drive from Nuwara Eliya to Bambarakanda Falls takes about 2 hours and 30 minutes.
Bambarakanda Holiday Resort
Address: G.Kulathunga, Bambarakanda Gardens, Kalupahana 90322, Sri Lanka
Wake up to a delicious breakfast and stunning views of Bambarakanda Falls from your window at Bambarakanda Holiday Resort. Set within the Horton Plains National Park, this homely resort places you right in the center of serene natural landscapes. Bambarakanda Holiday Resort prides itself on its hospitality and service, and serves authentic Sri Lankan-style cuisine.
St Clair's Falls
Often referred to as the "Little Niagara of Sri Lanka", St. Clair's Falls is an 80-meter waterfall that runs through sprawling green hills and lush tea estates. Its picturesque setting has made St. Clair's Falls one of the most photographed waterfalls in Sri Lanka. St Clair's Falls takes its name from the nearby St. Clair's Tea Estate, a tea plantation estate with a rich history dating back to 1875. Though the base of this waterfall is inaccessible by foot, St. Clair's Falls can be admired from the many vantage points around the falls.
Getting there: St Clair's Falls is a 50-minute drive from Nuwara Eliya.
The Waterfall Villas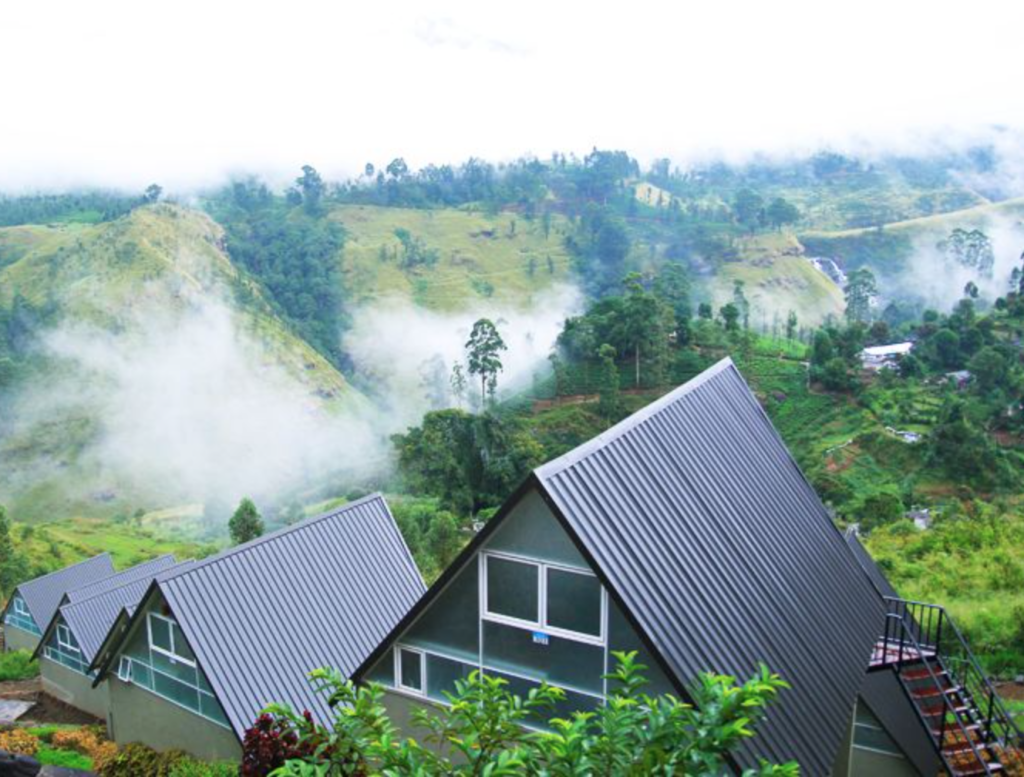 Address: The Waterfall Resort, Devon Estate, Nuwara Eliya Road, Talawakelle, 22100, Sri Lanka
Tucked in the heart of the mountain ranges of the Sri Lankan hill country is The Waterfall Villas, a luxurious eco-friendly resort for all nature lovers. Each of the resort's 43 villas is built along the slopes of the Great Western Mountain Range, providing guests with a breathtaking view of St. Clair's Falls and its lush surroundings. This villa is a top choice for couples looking for a romantic getaway set in the midst of dreamy mountainscapes.
Devon Falls
Named after a pioneer English coffee planter, Devon Falls is a three-tiered waterfall that stands at an altitude of 1,140 meters above sea level. Devon Falls is a popular stopover for travelers heading to Nuwara Eliya as the falls can be easily seen from the side of the road. If you'd like to get up close, we recommend heading to St. Clair's Tea Center where you can sip tea on the porch while admiring the falls.
Getting there: Drive along the Avissawella – Hatton – Nuwara Eliya Highway up to Dimbula to reach Devon Falls.
The Argyle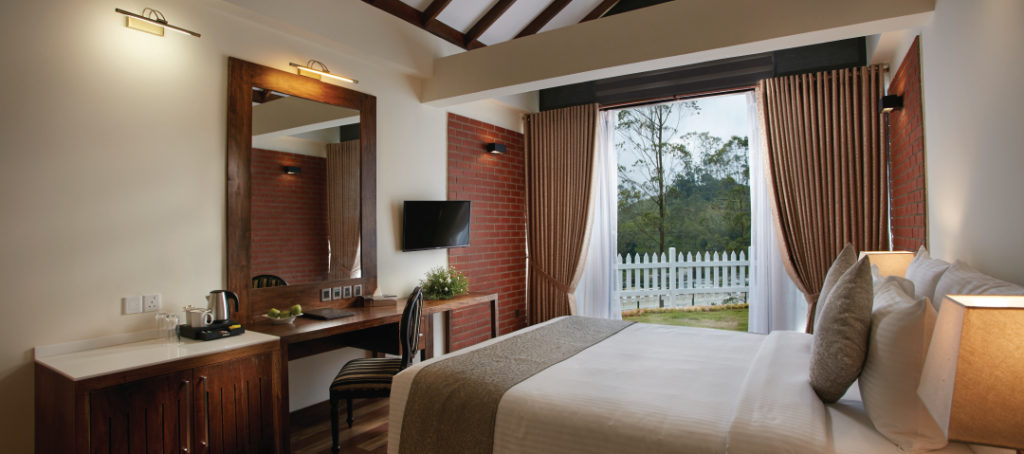 Address: Argyle Road Kudaoya Estate, Hatton 22000, Sri Lanka
Find your perfect highland getaway at The Argyle, Sri Lanka's only contemporary highland Castel. The Argyle is the ideal escape from city life as it is tucked away on a hilltop in the city of Hatton, its property spread across 1.2 acres. Its rooms are elegantly designed with old-English decor and offer a view of rolling green hills.
Laxapana Falls
Be amazed by the intensity and majesty of the 126-meter tall Laxapana Falls, the eighth-highest waterfall in Sri Lanka. To reach the falls, follow a forested trail flanked by dense flora and local houses to the base of the falls. This downward journey consists of more than 500 steps, so come prepared! Take extra precaution while swimming in the waterfall as the flow of water can be strong. This intensity powers two nearby hydroelectric power states. According to popular folklore, Laxapana Falls was where Lord Buddha mended his saffron robes when he was visiting Sri Pada, a sacred rock formation located in central Sri Lanka.
Getting there: Laxapana Falls is 2 hours and 20 minutes from Nuwara Eliya by car. Some travelers may opt to stay at Hatton for better accessibility to the falls.
La Luna Cabins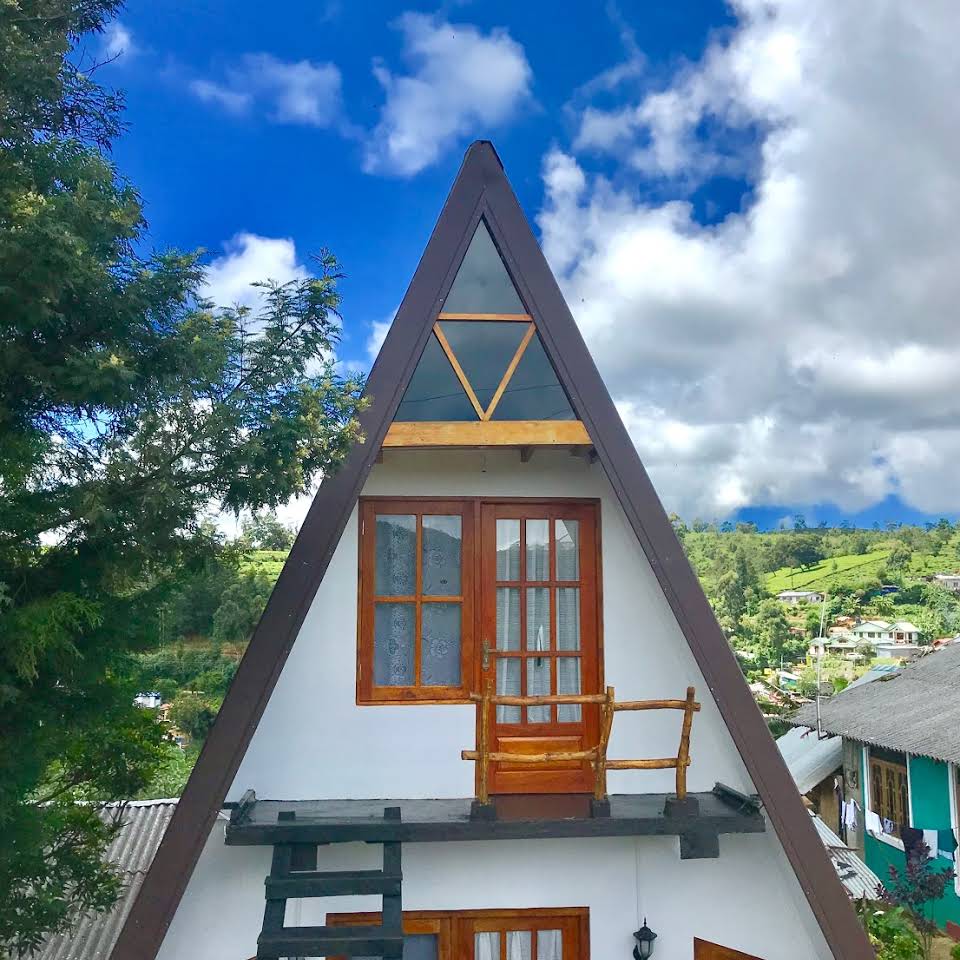 Address: 58, 18 Vajirapura Rd, Boralanda 22200, Sri Lanka
Spend a night at the quaint and charming La Luna Cabins, a rustic cabin experience that sets you right in the heart of gorgeous landscapes. Its iconic triangular attic window makes for the ideal spot to gaze toward the surrounding tea estates. La Luna Cabins is conveniently located on a quiet road near Pedro's Tea Factory, and scenic waterfalls such as Laxapana Falls and Lover's Leap.
Aberdeen Falls
Named after the third-largest city in Scotland, Aberdeen Falls is Sri Lanka's 18th-tallest waterfall. Its shallow rock pools make it a perfect destination for a scenic picnic that extends out to a view of lush foliage. The main pool can be reached with a 15-to-20-minute downhill walk through its surrounding greenery. Be amazed by a shimmering emerald green pool that features cascading water on one end and a countryside landscape on the other. Be careful! The pools have steep drops and can be very slippery.
Getting there: Located close to Laxapana Falls, driving to Aberdeen Falls takes about 2 hours from Nuwara Eliya.
Arsulana Eco Lodge & Spa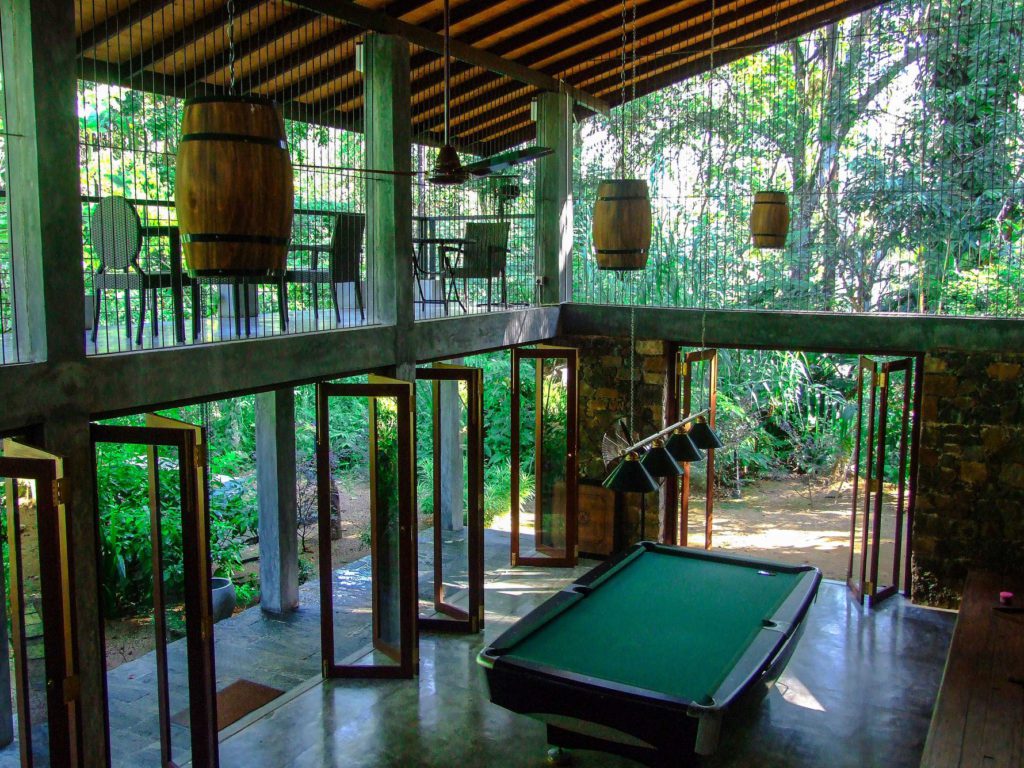 Address: Arsulana Eco Lodge & Spa, Ginigathhena 20680, Sri Lanka
Soothe your stresses with a quiet retreat at the cozy Arsulana Eco Lodge & Spa. Tucked away in 35 acres of untouched nature, this eco-lodge features six outdoor pools and a full-service spa. Relax and reconnect with nature in this serene oasis or hike to the nearby Aberdeen Falls.
Ramboda Falls
The Ramboda Falls is a popular stop for many driving from Kandy to Nuwara Eliya. Standing at 109 meters, Ramboda Falls is highly accessible via a well-paved flight of stairs beginning at the entrance off the main road. This hike is worth the effort as it takes you to the peak of Ramboda Falls to enjoy an unobstructed view of the falls. Pack your swimsuit! The trail also brings you to natural pools that you can splash in.
Getting there: Travel approximately 23.1 kilometers along the Peradeniya-Badulla-Chenkaladi Highway up to Ramboda to reach the Ramboda Falls.
Ramboda Falls Hotel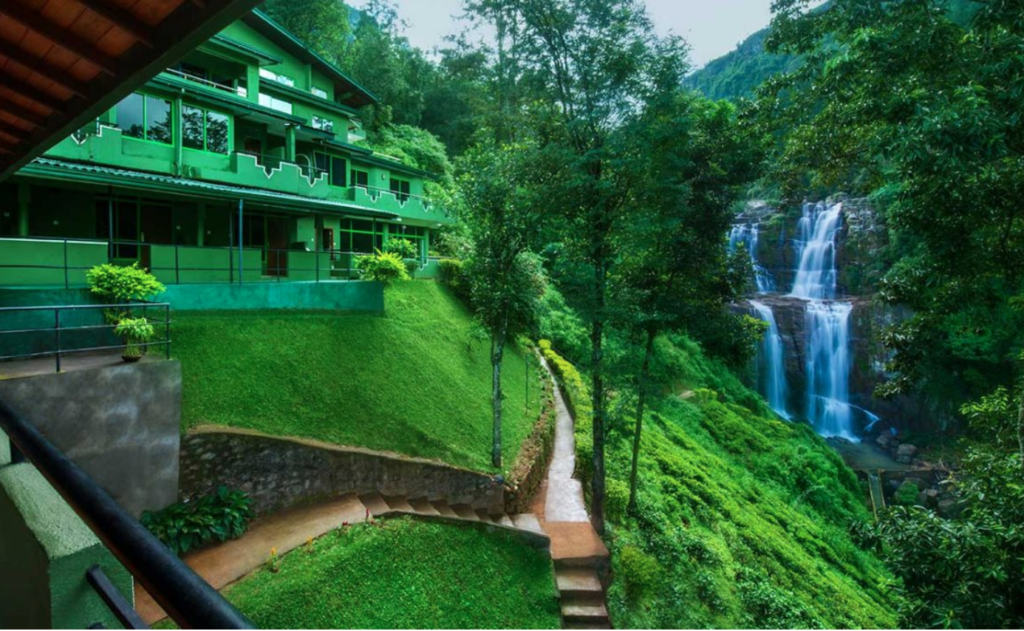 Address: 76, Nuwara Eliya Rd, Ramboda, Nuwara Eliya 22200, Sri Lanka
Live the dream of waking up to superb views of Ramboda Falls just outside your window at the Ramboda Falls Hotel. Choose from the 45 rooms available at the hotel, each of them providing exquisite views of misty mountains, verdant tea plantations, and cascading waterfalls. Your stay here also allows you access to the observation deck to see the majesty of the falls up close without hiking.
---
We hope we have inspired you to see the sights of Nuwara Eliya when you visit Sri Lanka.
---
About TourHero
TourHero is a social travel platform that enables you to travel with like-minded people and fall in love with the journey. We work closely with handpicked local operators to ensure every experience curated is unique and exclusive to your travel group. Come with us on epic adventures and create memories that last a lifetime!