Find your next adventure in Ecuador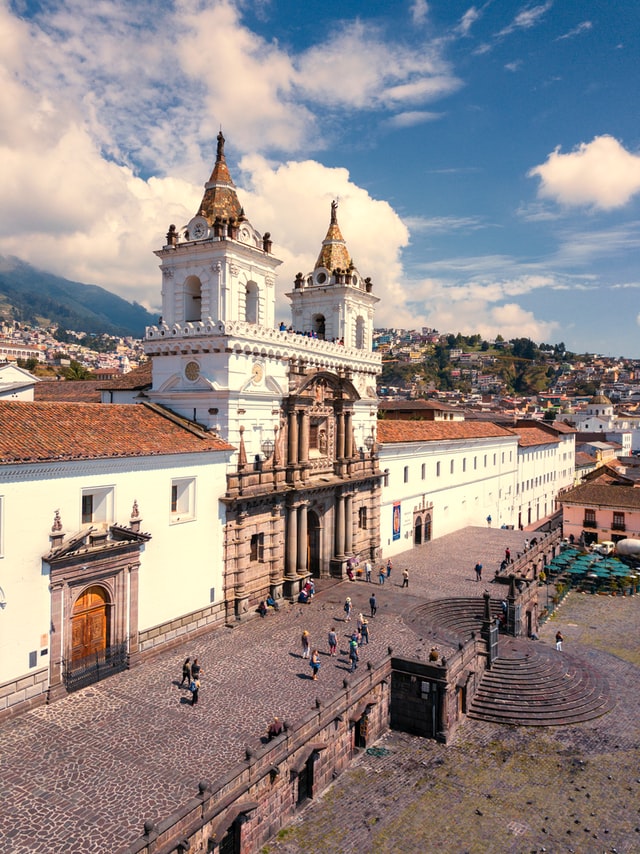 When to visit Ecuador
Ecuador's weather varies depending on which part of the country you plan to visit. The weather generally varies by geography, with temperatures fluctuating across different altitudes rather than by latitude. With its proximity to the equator, you can expect temperatures to easily top 30°C in the lowlands. It gets colder in the mountains, while coastal areas see distinct wet and dry seasons.
Surprisingly, the best time to visit Ecuador's beaches is during the rainy season from December to May. Mornings tend to be sunny, with rain falling in short bursts in the late afternoon. The dry season from June to November brings muggy, cold, and overcast days that can stay for long periods.
Wet weather is expected in the Amazon year-round, though December to May is particularly wet. Try to visit between June and November for best visibility to observe wildlife.
Seasons up in the highlands are more consistent. You can expect days to be hot and sunny all year round, though nights can be bitterly cold, so dress accordingly. It's generally advisable to hike the mountains during the dry season, between June and November.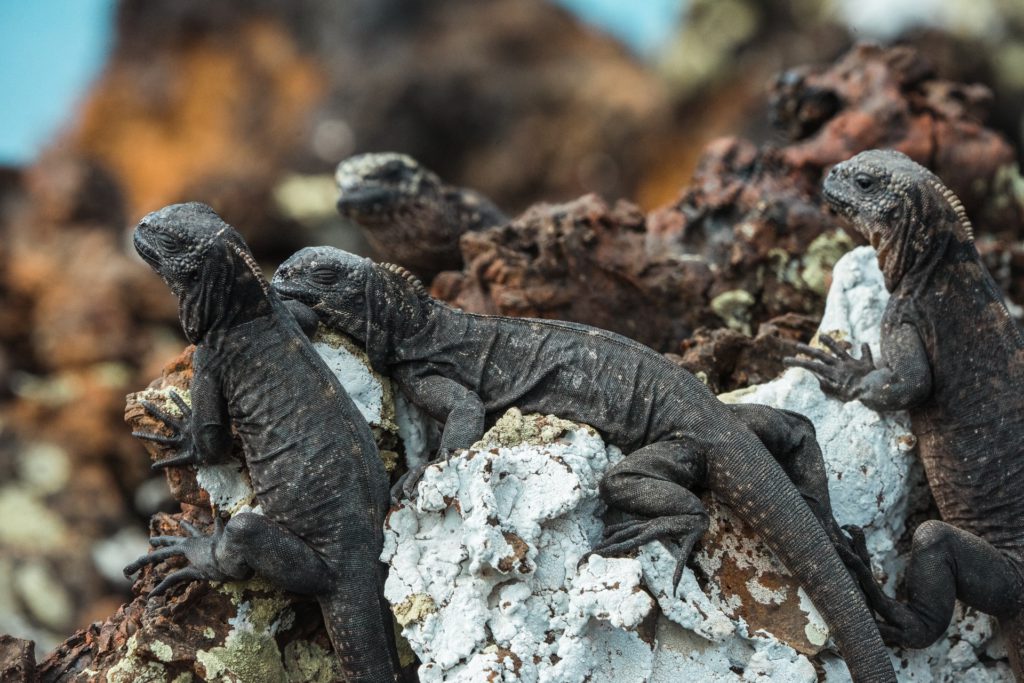 The Galapagos Islands
Peak season stretches from June to September and from late December to January. The Galapagos Islands can get very crowded, so it's best to book your trip well in advance!
However, peak season doesn't quite coincide with the best weather. You'll find the best months to visit the Galapagos are between December and May. While they are the warmest months and wet weather might be on the cards, the seas are much calmer. June to November may be drier but much chillier, and visibility for divers becomes poorer.
---
Estimated flight prices from popular cities
Highlights of Ecuador
Quito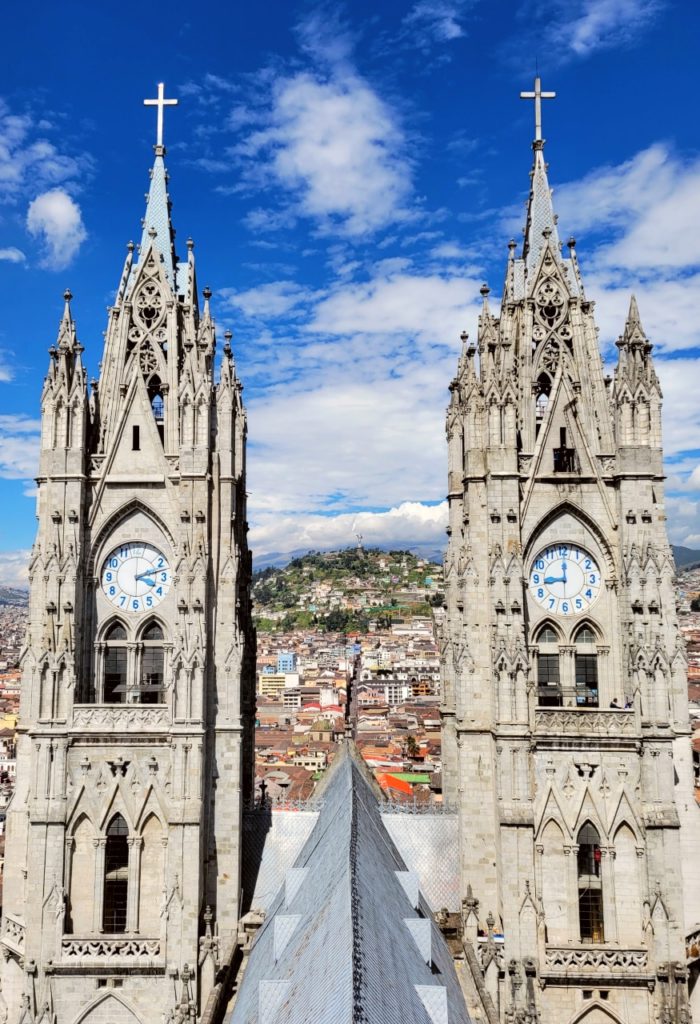 Quito is Ecuador's bustling capital and cultural epicenter, often considered one of South America's most scenic cities for it sits high in the Andes, flanked by active nearby volcanoes, including the Pichincha and Cotopaxi Volcanoes. Founded on the ruins of an Incan city, Quito offers a wonderful mix of old and new — today, it remains an eye-opening destination that provides visitors with a great introduction to Ecuador's diverse architecture, colonial history, authentic cuisine, and unique landscape. Wander the cobblestone streets of the iconic 16th-century Centro Historico (Old Town), the largest and best-preserved colonial center in Latin America — and also the world's very first designated UNESCO World Heritage city.
We highly recommend taking a private tour of the city's old streets with a local guide to get the most out of your visit. Discover picturesque plazas and historical treasures, including famous churches that showcase impressive centuries-old architecture, from the awe-inspiring neo-Gothic Basilica of the National Vote to the striking Metropolitan Cathedral of Quito. For breathtaking views, head up the 200-meter-high volcanic peak of Panecillo Hill to see its famous aluminum statue, the world's tallest representation of a winged Virgin Mary. From here, score incredible views of the entire city sprawled before you.
---
The Galapagos
An unparalleled bucket list destination that boasts one the planet's most incredible destinations for wildlife-spotting, the Galapagos Islands are where you go to get up close and personal with sea lions, marine iguanas, prehistoric-looking giant tortoises, penguins, albatross, and a smorgasbord of other creatures big and small. Consisting of 19 islands sitting in the Pacific Ocean, 1000 kilometers from the Ecuadorian coast, the Galapagos' extremely isolated geographical location also puts it at the juncture of three ocean currents, making it home to one of the richest marine ecosystems on Earth. The islands have been called a unique "living museum and showcase of evolution" and are known as a source of inspiration for Charles Darwin's theory of evolution by natural selection.
The various islands here offer different experiences — wildlife enthusiasts should venture to the little town of Puerto Ayora on Santa Cruz Island to check out the Charles Darwin Research Station before visiting the isolated strip of Tortuga Bay to catch sight of the iguanas, Sally Lightfoot crabs, brown pelicans, and Black Sea turtles that nest here. For hikers who aren't afraid of rocky terrain, the landscapes of the active Sierra Negra Volcano on Isabela Island offer a unique opportunity to discover remnants of lava fields and craters from its 2005 eruption. Scuba diving in the Galapagos is also a treat, with Shark Point, Gordon Rocks, Tijeretas Hill and a plethora of other dive sites promising unbelievable marine life encounters.
---
Guayaquil
Gateway to the beautiful beaches of the Pacific and the famous Galapagos Islands, visitors to the colorful Ecuadorian port city of Guayaquil will fast learn that there is more to the destination than just being a stopover to other parts of the region. Venture downtown to find cafes and art galleries, stop by the Plaza Guayarte for street art and great food, take a leisurely stroll down the 2.5-kilometer Malecón 2000 riverfront promenade by the Rio Guayas, relax in one of the many beautiful parks, catch a dinner-and-show spectacle on Captain Morgan's Pirate Ship, discover the beautiful hillside enclave of Cerro Santa Ana, and more!
Guayaquil also boasts a number of easy day trip destinations to fill your itineraries. Escape just 90 minutes away to the idyllic mangroves that populate the waterways of Puerto El Morro. Here, a small boat tour will bring you right into the heart of the home of wild bottlenose dolphins and bird species like herons, gulls, and blue-footed boobies. For nature a little closer to the city, explore the looping trail of the Cerro Blanco Protected Forest for howler monkey encounters. If you're interested in chocolate, embark on a cocoa farm tour out in the rural countryside to see how Ecuadorian chocolate is made from scratch!
---
Banos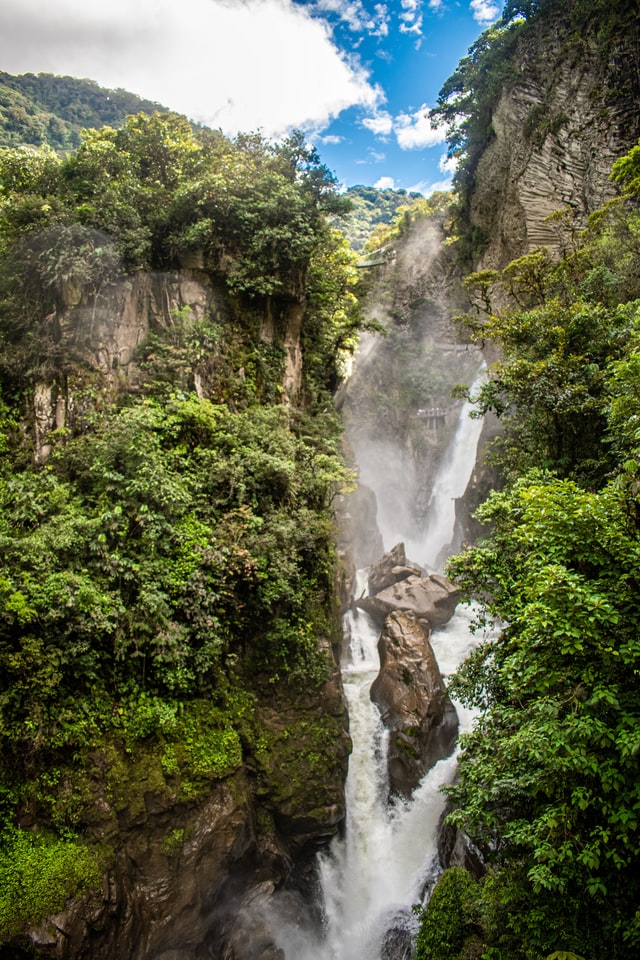 Banos is situated in a lush valley at the foothills of the active Tungurahua Volcano. Considered a gateway to the nearby Amazon Basin and providing a base from which to explore one of the most biodiverse ecosystems on our planet — the Andean cloud forest — this is where you'll find trailheads, rich landscapes, and heart-pumping adventure activities for thrill-seekers and nature-lovers. Cross the Parroquia Rio Verde via cable car to spot the gushing Bride's Veil Waterfall, and hike to the breathtaking Pailón del Diablo, which cascades 80 meters down into a big cauldron of rocks.
Eco-tourism activities here are aplenty — from ziplining experiences to whitewater rafting, the natural surroundings provide the perfect place for an immersive adventure. After your fair share of thrills, if you're looking to slow the pace, you'll be glad to know that Banos is not just an adventure hotspot: spend a few hours relaxing in the thermal baths on the edge of town to unwind, or indulge in superb hot chocolate at one of the town's little cafes. And before you leave, don't forget to pick up some handmade souvenirs!
About TourHero
TourHero is a social travel platform that enables you to travel with like-minded people and fall in love with the journey. We work closely with handpicked local operators to ensure every experience curated is unique and exclusive to your travel group. Join an epic adventure with like-minded travelers to create memories that last a lifetime.