Unleash your inner explorer in Mexico
When to visit Mexico
As Mexico stretches for nearly 800,000 square miles and encompasses a wide variety of terrain, you'll find that the climate differs depending on where you go. What stays constant is two distinct seasons: a dry season and a rainy season. Plan accordingly and you will find it's a great country to visit at any time of the year!
Many people enjoy exploring Mexico during the dry season, which stretches from December to April. This is the best time to do plenty of outdoor adventuring.
The rainy season stretches from May to October, but the good news is that downpours are less frequent and heavy compared to other destinations. You can still enjoy most regions.
Thinking of a little city exploration? You'll find May, April, October, and November the perfect months to visit Mexico City and central Mexico. This allows you to avoid the rains and too much heat. Don't forget to check out some great archaeological sites while the weather stays dry.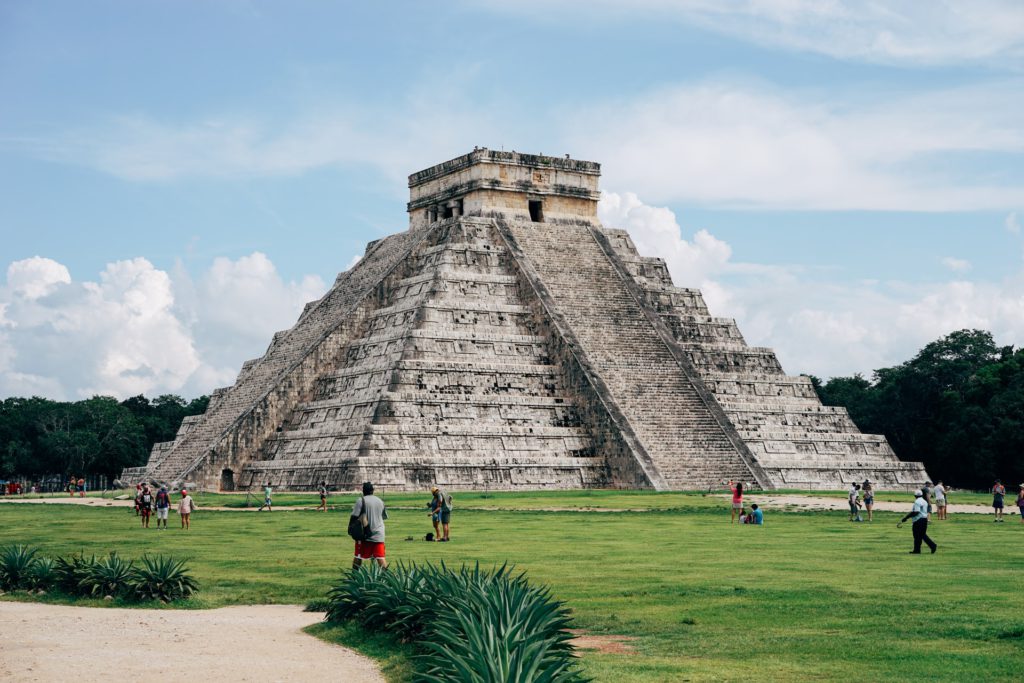 The best time to visit for diving and water activities along the Caribbean coast falls between February and June. Don't miss the island of Cozumel, one of the world's best dive spots.
The best time to head to the Yucatan to immerse yourself in its incredible beaches, tropical rainforests, and ancient Mayan locations is between December and January, during the dry season. You'll get the best visibility and a pleasant outdoor experience.
The north of Mexico has the mildest climate and you can expect a great visit at any time of the year. It does get a little chilly in February and March (though rarely below 5°C), so if you get cold easily, favor heading south instead.
---
Estimated flight prices from popular cities
Highlights of Mexico
Cancun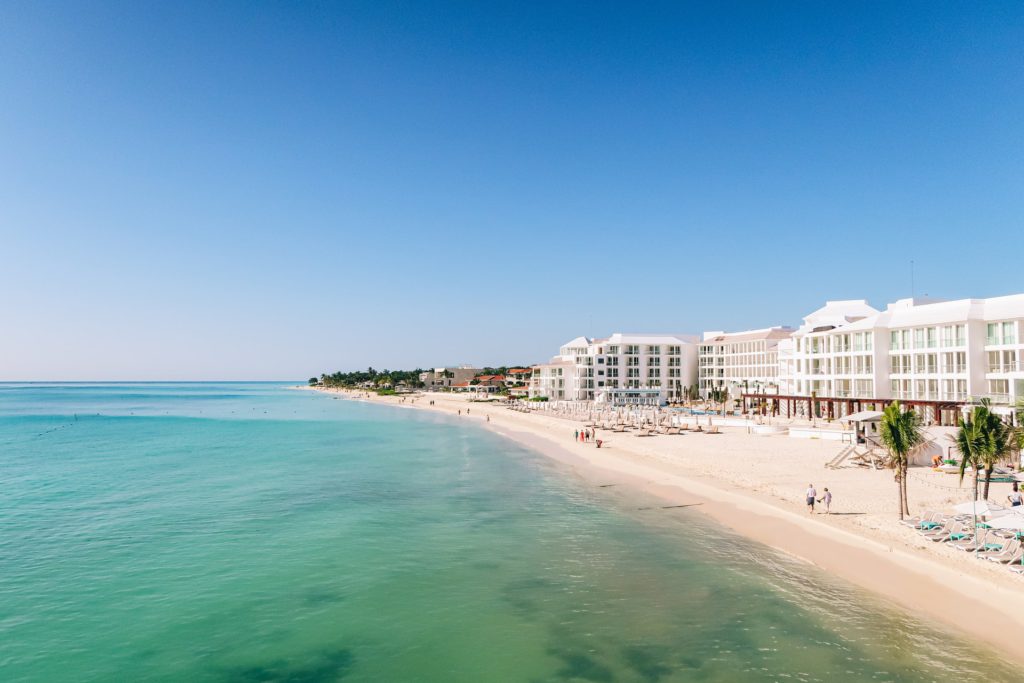 Cancun is world-famous for its reputation as a beach holiday destination, its location on the Yucatan Peninsula overlooking the Caribbean Sea making it an attractive sanctuary for hotels, resorts, restaurants, bars, and nightclubs. A top destination for spring break, this is where the fun never stops. Entertainment options are plentiful and the beaches are indeed beautiful, complete with bright blue waters and near-perfect weather. Indulge in international cuisine, catch the best DJs in the world in action, take a catamaran out to sea, tour the reefs and swim with turtles… the variety of activities here will keep you busy!
Don't miss the opportunity to check out the Delfines Beach Viewpoint for the most spectacular and quintessential views of Cancun. If a bird's-eye view is more your style, hop on the Cancun Ferris Wheel and soar 70 meters into the air to witness dreamlike views of Cancun below — catch a fiery sunset at the right moment. For something a little different, splash into Caribbean waters and snorkel the Cancun Underwater Museum of Art, the largest museum of its kind on Earth that boasts a collection of over 500 life-size underwater sculptures that promote coral life. And on the east coast of Cancun, the sprawling 3,000 hectares of the Nichupte Lagoon offers a natural environment rich in mangrove ecosystems and kayak-friendly channels for wilder adventures.
---
Tulum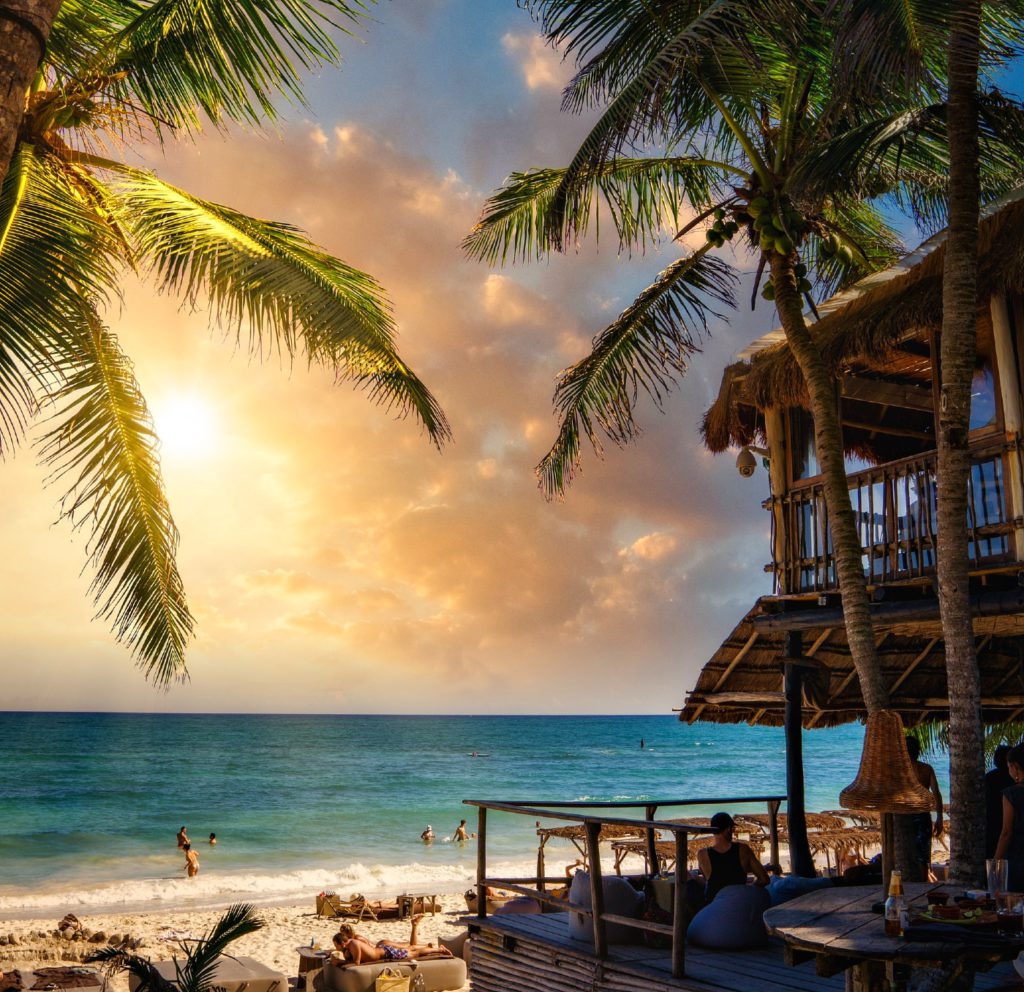 Also on the Caribbean coastline of the Yucatan Peninsula, just a couple of hours from Cancun, the small beach town of Tulum sits like an enticing jewel, beckoning travelers with its gleaming sapphire waters, balmy breezes, and powder-soft sands. While Cancun gets all the action, Tulum offers a more laid-back vibe with a focus on eco-conscious activities that highlight and support the natural beauty of the Riviera Maya. A variety of sightseeing spots scattered around the area gives you ample opportunity to do a little exploring — a Mayan ruin situated dramatically on the rugged coastline, fabulous caves and cenotes just perfect for diving in, miles of untouched coastline easily explored by bicycle.
The heritage-listed Tulum Ruins is impressive not just for its history but for the fact that the ruins are perched on a cliff overlooking a most splendid stretch of beach and brilliant turquoise waters. For adventurers, the naturally-formed, fish-filled Dos Ojos Cenote and its pristine underground rivers make a spectacular snorkeling and diving spot, while the Instagram-famous Gran Cenote is more easily accessible if you're after a quick dip. Head south and you'll discover the Sian Ka'an Biosphere Reserve, a protected jungle that offers guided boat tours, hidden ruins, and incredible wildlife sightings. For more archaeological marvels to unleash your inner Indiana Jones, head out on a tour to the ancient Coba Ruins or venture even further to the Chichen Itza complex and climb its gigantic step pyramid.
Read more:
– Discover more than just Chichen Itza in our extensive guide to the 10 must-see pyramids in Mexico.
– Look through our list of the 12 best cenotes in Tulum and plan for an unforgettable adventure!
---
Puerto Vallarta
Puerto Vallarta is defined by its spectacular coastline flanked by the rugged and undulating Sierra Madre mountains. Located on the Pacific Coast, it is a destination that embraces an authentic Mexican spirit through its culture, gastronomy, and traditions. Bolstered by its resort town reputation and beautiful beaches, you will also find a picturesque historical center with cobblestone streets dotted with art galleries, street murals, charming restaurants, and the ornate Church of Our Lady of Guadalupe. Puerto Vallarta's lush surroundings also offer some of the best ecotourism and adventure activities, from horseback riding to hiking, ziplining to skydiving.
The essence of the town is captured through a leisurely stroll down the vibrant and iconic Malecon Boardwalk, itself peppered with shops, restaurants, and art sculptures, and provides the best front-row seats to Puerto Vallarta's perfect sunsets. The Romantic Zone on the other side of the Cuale River is where you'll find a cosmopolitan and inclusive neighborhood crowded with trendy restaurants, plazas, bars, and a buzzing nightlife to enjoy as the sun goes down. Want a bit of nature? Step away from the coast and enter the Vallarta Botanical Gardens up in the mountains to explore a 64-acre magical world of orchids, cactuses, cocoa trees, dancing butterflies, and flighty hummingbirds.
---
Guanajuato
Founded by the Spanish in the 16th century, Guanajuato once prospered as an important silver mining town. Its history is still visible through its narrow subterranean streets, tunnels, and the Boca del Inferno mineshaft that plunges a breathtaking 600 meters. Proclaimed a UNESCO World Heritage Site in 1988, travelers from far and wide have flocked here with the intention of exploring its winding network of alleyways typified by the Callejón del Beso (Alley of the Kiss) — so named because the balconies of the buildings are so close and cars are unable to pass through the narrow spaces. Pink sandstone buildings, small plazas, and colonial-era mansions line the streets, and plenty of landmarks will keep history buffs happy.
The churches of La Valenciana and La Compania are said to stand among the best examples of baroque architecture, while the Dieguino Convent Museum is where you will find the excavated underground skeleton of a 17th-century cloister that remained buried for almost 200 years. A macabre spectacle awaits in the Museum of the Mummies of Guanajuato, which exhibits a large collection of mummified bodies that date back to 1870. Don't forget to explore the Calle Subterranea — once an ancient riverbed, it is now a unique underground street that cuts below the Historical Center for eight kilometers and is accessible to cars and pedestrians.
---
Mexico City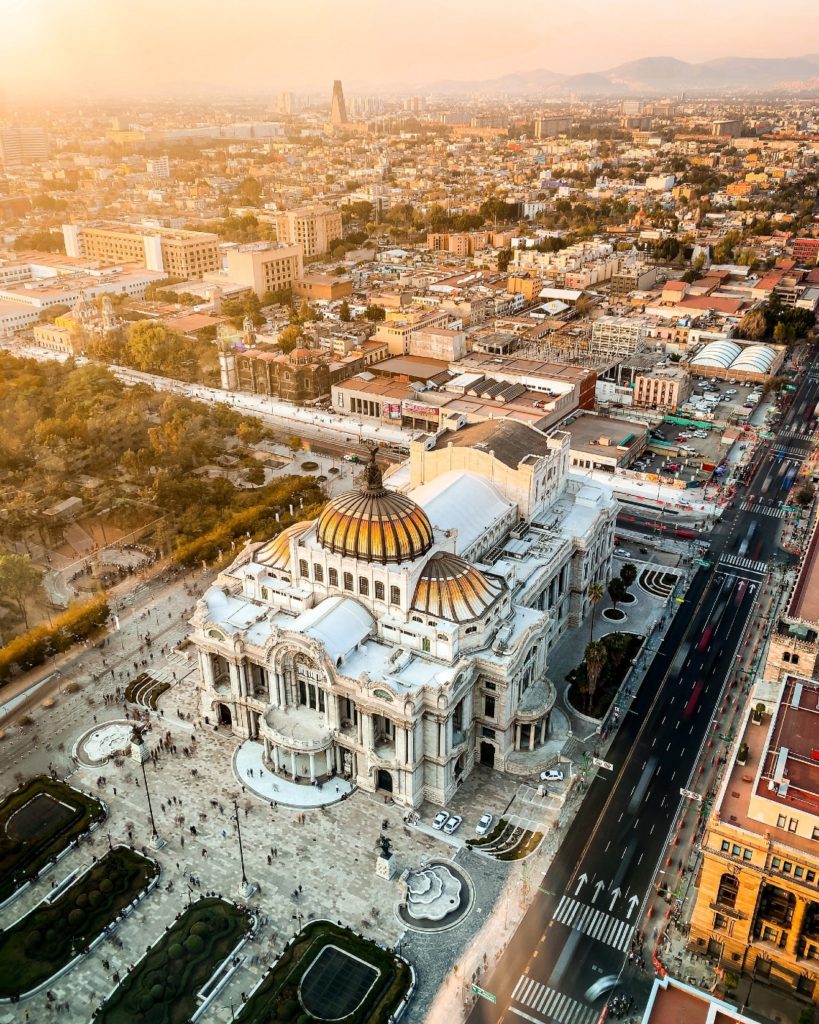 Mexico City, the capital of Mexico and the largest Spanish-speaking city in the world, is big and bold. Thriving with new hotels, chic restaurants, a contemporary art scene, and intriguing museums, the densely populated city has seen a revival and a reinvention of its identity in recent years. That's not to say the city's history has been peeled away — wander around enough and you'll encounter grand historical buildings in neoclassical and art nouveau styles, old galleries, and ancient canals worthy of exploration.
Step into the 17th-century Palacio Nacional and visit the Biblioteca Miguel Lerdo de Tejada, one of the most renowned libraries in the country. The grandiose palace is also home to Diego Rivera's incredible 'The History of Mexico' murals, a stunning depiction of Mexico's history from ancient Aztec times to the present. For art on an even larger scale, the white-marble building of Palacio de Bellas Artes showcases exhibitions by world-famous Mexican artists and hosts notable events in music, theater, dance, and opera. A stroll through the lush neighborhood of Condesa transports you to a world of cutting-edge boutiques, sidewalk espresso bars, and trendy bistros — it's where the young professionals play. For a taste of something different, head south of the city to find the iconic shallow "floating gardens" of Xochimilco, the last remnants of a vast canal system built by the Aztecs to transport water. Today, it is a channel for colorful gondola-like boats to take visitors on weekend cruises.
Read more:
Delve deep into the Mexico City street food scene — check out these 10 strange but tasty foods to eat while exploring!
About TourHero
TourHero is a social travel platform that enables you to travel with like-minded people and fall in love with the journey. We work closely with handpicked local operators to ensure every experience curated is unique and exclusive to your travel group. Join an epic adventure with like-minded travelers to create memories that last a lifetime.