Colombia's best adventures await you
When to visit Colombia
Colombia's proximity to the equator means that temperatures vary according to altitude instead of season. In the lowlands, expect a tropical and humid climate with very little difference in daytime and nighttime temperatures, averaging around 30°C throughout the year. In high altitudes, days are cool while nights can dip to near-freezing — the higher you climb, the colder it gets.
Colombia is very much a year-round destination, though keep in mind it has a tropical climate, so if you're looking to visit during the driest months, your best bet is the stretch from December to March and July to early September.
However, don't worry if you're visiting outside of these months. Even in the rainy season, you can still expect at least a few hours of sunshine each day.
Rainfall is heavier along the Caribbean shore in October and November. It's a great time to head into the jungles instead and hike in the Amazon Rainforest — water levels are lower here and navigating the trails becomes easier.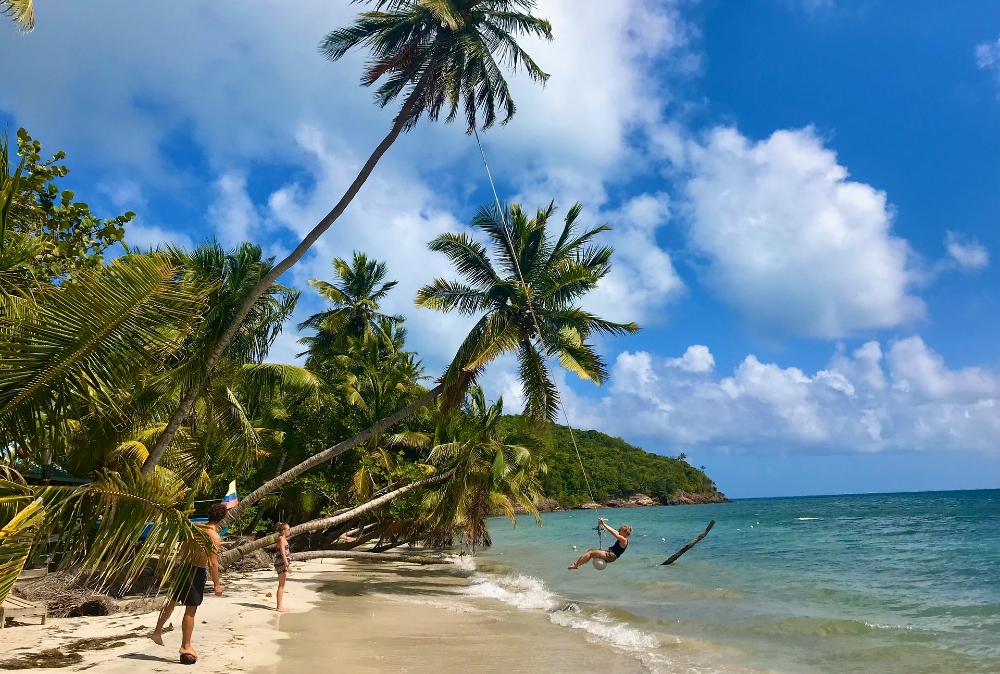 Whale watching season along the Colombian Pacific coast falls between July and November, when humpback whales migrate in their thousands from Antarctica to find warmer ocean waters to mate and reproduce.
The best time for beaches is between December and March, when the weather remains warm and sunny across the country.
If you're looking to avoid crowds, plan trips during the shoulder season, from February to April. This period offers the best combination of fewer crowds and good weather. Just be mindful of Colombian holidays, particularly in places like Cartagena that fill up with domestic tourists.
---
Estimated flight prices from popular cities
Highlights of Colombia
Cartagena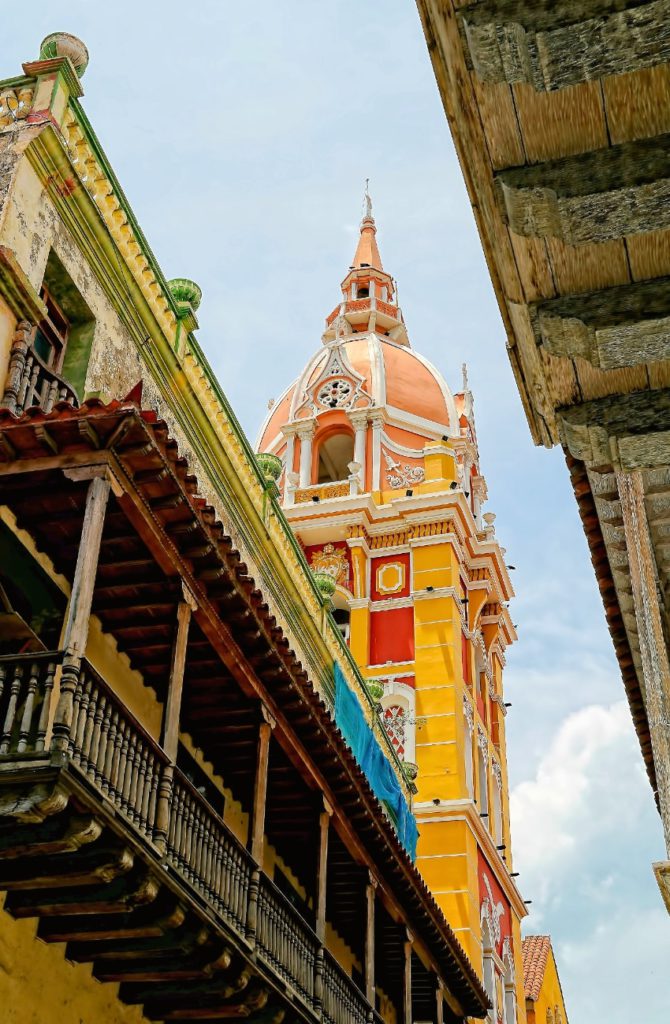 The charming port city of Cartagena, located on Colombia's Caribbean coast, opens a door to an adventure of magical city walks that take you through streets filled with colorful murals, amazing architecture, and historic buildings. The colonial cultural heritage of Cartagena's old walled city, founded in the 16th century, is extraordinary enough to be a designated UNESCO World Heritage Site. The city's beaches are also popular spots for tourists who want to take advantage of the tropical climate. Those willing to venture offshore have the Rosario Islands and Isla de Baru as alternative options that are reachable by boat.
Explore the eye-opening cultural quarter of Cartagena's coolest barrio, Getsemani, where stories are told through stunning graffiti paintings that depict tropical scenes, palenqueras, and local flora and fauna. Stroll across the Plaza de Bolivar, which many consider the beating heart of the city, and step into the Zenu Gold Museum to explore the collection of beautiful gold, silver, and ceramic pre-Colombian relics on display. History buffs will no doubt find the Castillo de San Felipe de Barajas and its tunnel system worth a visit. Known as the greatest fortress ever built by the Spaniards and the site of many historic battles, the structure still dominates part of Cartagena's cityscape.
Read more:
Hungry? Immerse yourself in the city's food scene and see if you can find these top 8 must-try Colombian dishes while exploring!
---
Medellin
After close to two decades, Medellin has seen a reinvention of its reputation, emerging from the shadows of its war-torn past of drugs and Pablo Escobar, today coming to life as a magnet for tourists. Nestled in the Aburra Valley, with high-rise apartments, skyscrapers, and modern cable cars against a backdrop of mountain peaks, this "City of Eternal Spring" is now a desired hotspot for expats, digital nomads, and backpackers. There are plenty of activities here to fill any visitor's itinerary: food tours, walking tours, parks, microbreweries, museums, markets, and even a famous annual flower festival that transforms the city into a major party.
Don't miss out on touring the Comuna 13. Once deemed Medellin's most dangerous neighborhood, it is today a much safer and more accessible area speckled with street art murals and a vibrant atmosphere that draws crowds — a major testament to urban renovation. For even more art, pop into the Medellin Museum of Modern Art, housed in an enormous refurbished industrial building of metal and concrete. The food scene has also flourished in recent years, with a multitude of hip cafes and high-end restaurants opening across the affluent areas of the city such as El Poblado. For some respite from the bustle of the city, step into the 14-hectare Jardín Botánico and wander around the lake, herbarium, and butterfly house.
---
San Andres
The small Colombian island of San Andres, located off the coast of Nicaragua, is an idyllic paradise known for its pristine white-sand beaches, coral reefs, all-inclusive resorts, and unique blend of culture that mixes English, Spanish, pirate, and buccaneer influences with its afro-descendent communities. The island is part of an archipelago that makes up the UNESCO-recognized Seaflower Biosphere Reserve. Here at this sparkling Caribbean hotspot, where the stunning blue-green waters have been nicknamed "the sea of seven colors", you'll find no shortage of snorkeling, scuba diving, and wildlife-spotting opportunities.
With a plethora of beaches, islets, cays, and reefs, the vacation vibes never stop. Explore the iguana-inhabited island of Johnny Cay Natural Regional Park, which delivers palm tree-lined shorelines to lounge along, crystal-clear waters to splash in, and food and drink stalls playing reggae music. In the heart of San Andres, you'll find Big Pond Lagoon (Lake La Loma), one of the most impressive natural places on the island to spot wildlife, surrounded by a lush jungle landscape ripe with native fruit trees. For more ecological experiences, head to the Old Point Regional Mangrove Park, where vegetation flourishes and the wildlife is diverse. Here, you can paddle around in a glass-bottom kayak, cross beautiful mangrove tunnels, float along seagrass meadows, and observe communities of jellyfish, oysters, crabs, and rays that call the shallows home.
About TourHero
TourHero is a social travel platform that enables you to travel with like-minded people and fall in love with the journey. We work closely with handpicked local operators to ensure every experience curated is unique and exclusive to your travel group. Join an epic adventure with like-minded travelers to create memories that last a lifetime.