Go on adventures you'll never forget
When to visit Chile
The best time to visit Chile depends on where you're headed. Down south in Patagonia, the warmest and most accessible months stretch from October to March and temperatures reach a pleasant 15°C. Santiago, the central regions, and the Atacama Desert are considered more year-round destinations, with warmer weather that can reach 30°C in the daytime.
Patagonia is a very popular destination for visitors in the summer from October to February when the weather in the Southern Hemisphere is warm and pleasant. Accommodation can fill up very quickly during this time — book well in advance.
March is a great shoulder season to travel across Chile, particularly to the Lake District and wine country. Crowds in Patagonia start to ease up, and so do accommodation prices.
Patagonia's low season stretches from April to August. It gets quieter and colder — hotels may close for the season. However, Torres del Paine National Park remains open, giving you the best opportunities for wildlife spotting without disturbances.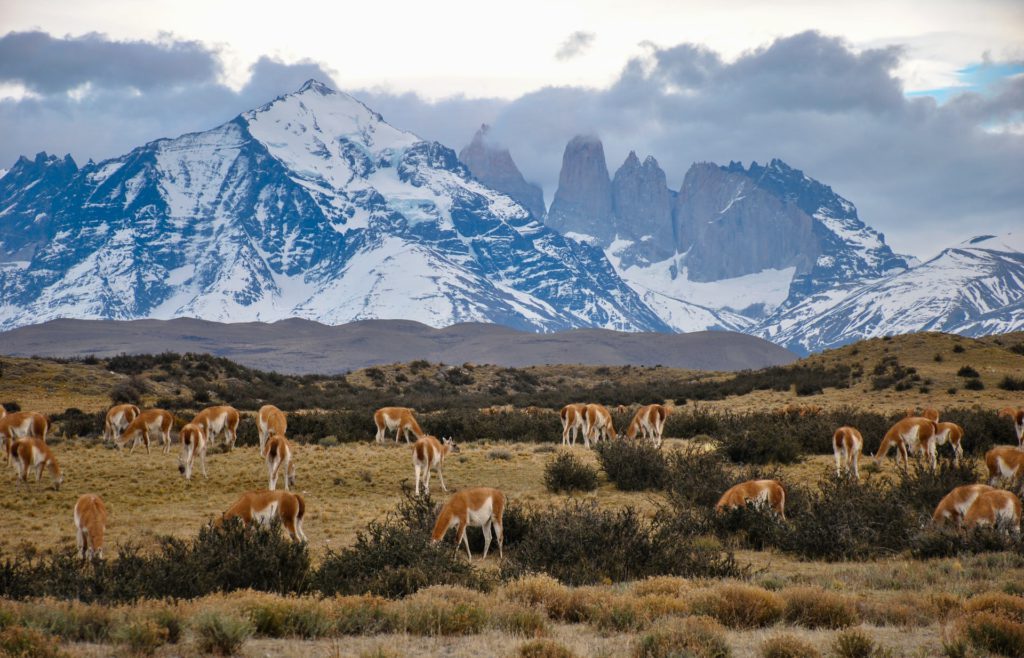 If you plan to hit the ski slopes in the mountains around Santiago, the winter months from June to August are your best bet.
From September until the end of spring, crowds are generally smaller and this is a great time to combine some city exploration in Santiago with an adventure north, including the Atacama Desert.
The best time to visit Easter Island is between December and March, with warm waters making it a perfect time to swim and scarce rainfall making it easy to explore.
---
Estimated flight prices from popular cities
Highlights of Chile
Santiago
The vibrant and cosmopolitan capital of Chile is nestled in a valley between the snow-capped Andes on one side and the Chilean Coast Range on the other. Blessed with dramatic panoramas, Santiago makes an ideal starting point for anyone embarking on an adventure to Chile. With a smorgasbord of museums, art galleries, theaters, fresh food markets, dining options, grand architecture, and hip neighborhoods to explore, there is no shortage of places to dip your feet into the local culture. And if you like wine, you've come to the right place! This is a city that boasts dozens of vineyards right on its doorstep, and even within the city limits! Step into Viña Undurraga — one of the oldest wineries in Chile founded in 1885 — for a wine tasting session and to wander the fertile land upon which its vineyards sit.
A jewel amongst the museums of Santiago, the Chilean Museum of Pre-Colombian Art exhibits a collection depicting indigenous American creativity dating back 10,000 years. For a dose of culture, explore Barrio Bellavista, the city's bohemian quarter tucked between San Cristobal Hill and the Mapocho River. Here, weekends see handicraft markets in full swing; purchase a souvenir made of lapis lazuli, admire the street art, and grab a coffee at the popular Patio Bellavista complex. For a quirky afternoon, step into La Chascona, the former home of Chile's Nobel prize-winning poet Pablo Neruda, where the artwork and furniture brim with eccentricity. And don't forget to reward yourself with grand views of the city atop San Cristobal Hill itself!
---
Patagonia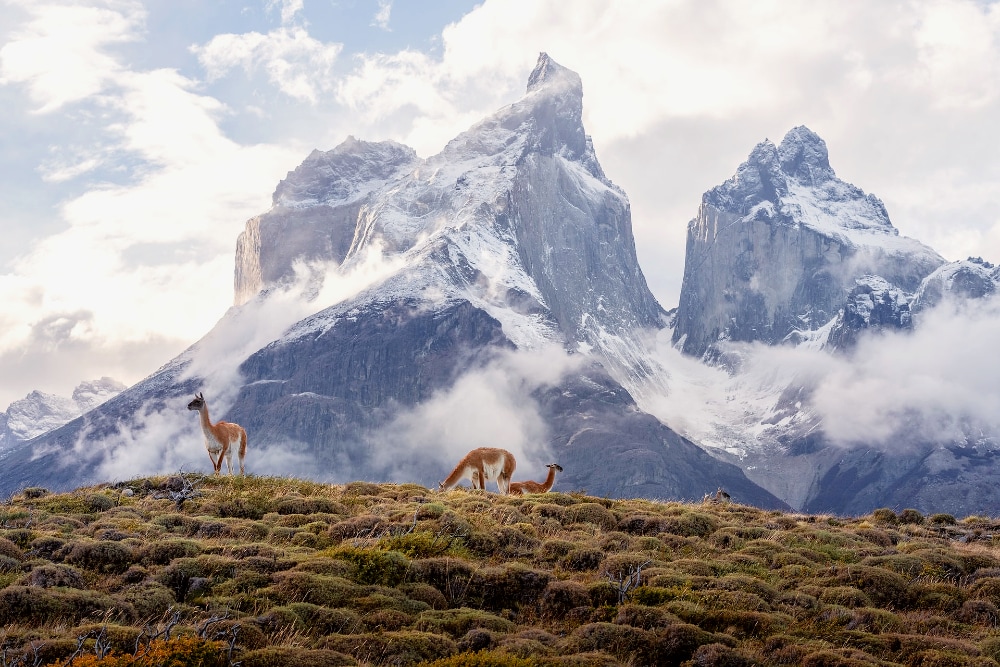 Pristine, wild, and untamed, Patagonia is a place that undulates with incredible beauty, untouched land, abundant glaciers, and diverse wildlife — an adventurer's ultimate dream. Sprawling 260,000 square miles across the southernmost region of South America and shared by Argentina and Chile, Chilean Patagonia has plenty of drawcards to entice visitors, including the awe-inspiring Torres del Paine National Park, which beckons with its iconic granite towers and the famous W Trek, its most popular multi-day hiking route. The Chilean Lake District, with its smoldering volcanoes, hot springs, gleaming lakes and temperate rainforests, is home to a melting pot of different cultures including the people of traditional fishing villages, indigenous Mapuche communities, and descendants of German settlers from the 1850s.
The diversity in its ever-changing terrain makes the Patagonian region a playground for thrill-seekers and nature-lovers. Outside of hiking the trails, one can also embark on horseback treks, kayaking jaunts, mountain biking excursions, and wildlife-spotting tours. Torres del Paine National Park itself is home to 26 species of mammal, including pumas and guanacos. Boat tours and cruises are just as eye-opening — sail out to the Chilean fjords for sightings of dolphins, elephant seals, and the adorable Magellanic penguins that nest along the coast.
---
Atacama Desert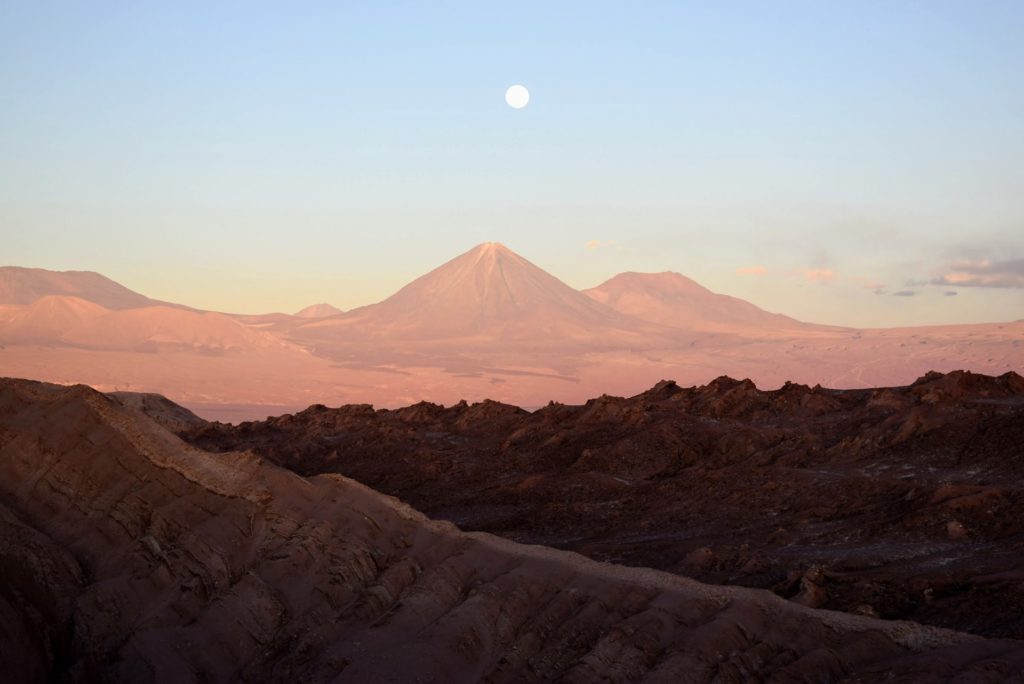 To the north of Chile, west of the Andes Mountains and near the borders of Bolivia, Peru, and Argentina, you'll find the sprawling plateau of the Atacama Desert covering a 1,000-kilometer stretch. Studded with fiery-red canyons, thermal lakes, and exploding geysers, this vast region forms the driest desert in the world. It receives less than a millimeter of rainfall per year. In fact, there are weather stations in certain parts of the Atacama that have never recorded a single drop of rain. Despite its harsh environment, it is one of the top destinations for visitors to Chile, providing intrepid travelers with plenty of unforgettable vistas that can be found nowhere else on the planet — think saline lakes and salt flats that sustain the Chilean flamingo population, otherworldly rock formations that transport you to Mars, and softly-smoking volcanic vents coupled with spouting geysers.
The Atacama Desert is where you can embark on some unique expeditions. Don't let its remote location deter you from discovering its magic! Traverse the rugged lunar-like landscape of Moon Valley, marvel at the Tatio Geysers at the third-largest geyser field in the world, discover the highland lagoons of Menique and Miscanti at the Flamingos National Reserve, and, by night, look up at the clear skies for unparalleled stargazing opportunities.
About TourHero
TourHero is a social travel platform that enables you to travel with like-minded people and fall in love with the journey. We work closely with handpicked local operators to ensure every experience curated is unique and exclusive to your travel group. Join an epic adventure with like-minded travelers to create memories that last a lifetime.